As an Amazon Associate I earn from qualifying purchases. Learn More
Constant disappointments of not getting that perfect look and texture for my hair finally led me to the Instyler Straight Up Brush. I straightaway fell in love with it the first time I used it. Its cool white and purple surface with black bristles caught my eye. I loved the smooth feeling of its handle on my palm. It was fast, taking only 30s to heat up.
The smooth non-grip surface slid through my hair without breaking it. What's more, the consistent heat gave my hair an even texture. The result was a straight, smooth and tangle-free look. I had finally found the right kind of brush for my thick, coarse and curly hair. I couldn't ask for more than what I got from this wonder Hair Straightening Brush.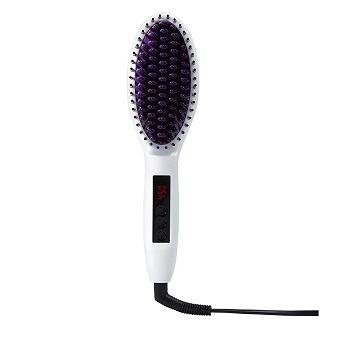 The InStyler Straight Up Brush Is Perfect For You. But Why?
Related: Asavea Hair Straightening Brush Review
It Is Fast
You wouldn't want to sit down for long waiting for your brush to heat up. This Hair Straightening Brush heats up within the 30s of being switched on. And as if that is not enough, the ionic bristles make it possible for your hair to dry faster.
This is because the bristles remove any moisture residue from your hair faster protecting it from long exposure to heat. This way, your hair won't be damaged by heat.
With heated plates that are 65 in number, this brush separates your hair into 16 sections with every single pass. This makes the straightening and smoothing process even faster and saves you time.
Ceramic Heat Technology
The STRAIGHT UP Ceramic Straightening Brush, compared to other common straightening brushes, employs 3D technology that uses ceramic. It heats up slowly thereby keeping your brush strong and long-lasting.
With this kind of technology, you won't have to worry about getting your brush destroyed by heat. The heat is evenly distributed and well-regulated throughout the brush surface, thanks to this innovative design.
Your hair is protected from very high temperatures that would otherwise render it fizzy and with split ends.
Consistent And Adjustable Temperatures
It is the heat that makes your hair soft and smooth, giving you ease in styling. The Instyler Straight Up Brush keeps its temperatures at the optimum levels in every section of the brush, leaving your hair smooth every time this brush passes through it. You save yourself the trouble of having to go over the same spot several times.
The 7 heat level settings starting from 330⁰F to 450⁰F and another heat setting of 212⁰C give you an opportunity to adjust the brush temperatures to your desired heat levels.
Remember, different hair types require different heat settings. The digital LCD display feature gives you the freedom to select the heat level depending on your hair type.
Smooth Non-grip Surface
Nobody wants a brush that clings to or pulls their hair. The smooth surface of this Hair Straightening Brush makes sure that it does not hold onto any strands of hair.
This prevents damaging and breaking of your hair, unlike most brushes on the market. Nothing feels as great as using a straightening brush that glides smoothly through your hair.
This leaves your hair smooth and frizz-free while the hair volume stays intact. You are guaranteed that your hair will be protected from the damaging effects of heat because the process is easy and fast.
Related: Simply Straight Brush Review
Great Shine
Nothing is as annoying as having dull, brittle hair. The ionic feature of the brush bristles saves you from such. It makes your hair dry faster. When your hair is not exposed to long durations of heat, it will not end up dry or dull.
So, whether yours is coarse or thick hair, the Instyler Straight Up Ceramic Straightening Brush leaves it smooth, shiny and straight.
The silky nature of your hair is maintained, thanks to ionic technology. It helps close up the hair cuticles so that your hair does not lose its natural oils.
Key Features of The InStyler Straight Up Brush
Cool white and purple colors
On/off button
Weighs around one pound
Uses a 3D ceramic heat technology
Heats up faster
7 heat levels ranging from 330⁰F to 450⁰F and 1 heat level of 212⁰C
An LCD temperature display
65 powerful ceramic heated plates with heat evenly distributed over the surface
Cool tip ionic bristles with smooth non-grip surface
Anti-scald feature
An automatic shut-off
A flexible swivel cord
InStyler Pros And Cons
InStyler Straight Up Brush FAQs
Final Verdict
With this Instyler Straight Up Ceramic Straightening Brush, the good news is that there would be no more bad hair days for you. Whether you want to have that straight, smooth, silky hair look is up to you. This is one brush that is designed to allow you to adjust the heat, meaning you won't have to worry anymore about ending up with badly damaged hair.
And if you want a Hair Straightening Brush that you will use for a long time, then this is a perfect fit for you. Its long-lasting quality is further enhanced by the automatic switch-off function. It goes off after 30 minutes of lying idle, thus preventing overheating. Yes, this is one brush that I would highly recommend as it gives you an exceptionally great experience that you won't find in traditional hair brushes.
About Author (Edna K. Martin)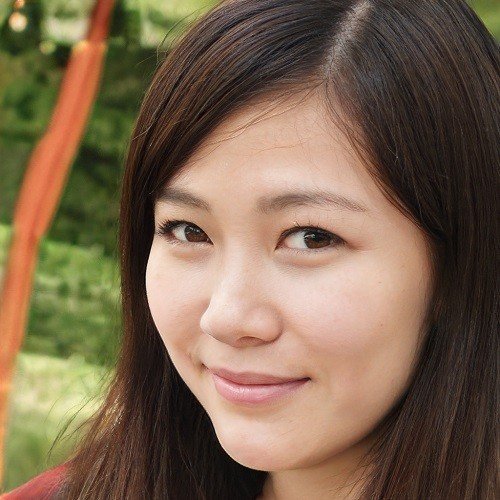 Edna K. Martin is an expert in skincare and hair care. With years of experience in the beauty industry, she has developed a deep understanding of the science behind healthy skin and hair; has a wealth of knowledge about the latest products and techniques. She is a certified skin care coach and has helped many people achieve a clearer and healthier complexion. As a hairstylist, View Profile ››