As an Amazon Associate I earn from qualifying purchases. Learn More
Do you love the way your hair looks straight, but hate the trouble of getting it that way? We've all been there. Straightening your hair takes time and effort that many of us simply don't have. Plus, thanks to the damage that traditional straighteners can do to your hair, many refuse to straighten at all!
Everyone deserves to have the hair they want hassle-free, and now, straightening your hair doesn't have to be a time-consuming hassle; here is a simply straight brush review. The brush is the perfect tool to add to your arsenal!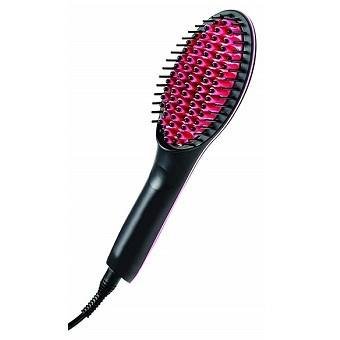 What Is The Simply Straight Brush?
The Simply Straight Hair Brush is a ceramic heating brush that promises speed and performance, all while promoting good hair health. It works as just a simple brush when off, and a straightener with the click of a button! Whether you're looking for a good brush or a good straightener, The simply straight ceramic brush will do it all with ease. No longer will you have to crowd your beauty kit with clunky straighteners and brushes. The Simply Straight Brush is truly a two-in-one dream.
Related: FemJolie Hair Straightening Brush
What Does The Brush Do?
Does simply straight work? The simply straight hairbrush comes loaded with all the features you could ever need in one small, beautiful, pink and black package. Simply hit the easy-on button and within 2 minutes you're ready to start straightening your hair, no matter how curly or wild.
The simply straight brush has fully adjustable heat settings reaching up to 450 degrees to match your hair preference, accurately displayed on its bright LED screen. It is made with 3D ceramic bristles that release hundreds of ions into your hair to assure your hair is treated with care every time, no matter what.
Its lightweight design makes this straightening brush extremely easy to travel with, whether you're on a vacation or a simple trip to your relatives. If you're anything like me, you'll be saying goodbye to your traditional brush and straightener and be welcoming the simply straight brush in full-time after the first try.
The simply straight brush even has a swiveling cord, meaning you'll never get tripped up while doing your hair! When it comes to straightening, this brush does everything you could ever want quickly and easily.
Key Features
Swivel cord for those hectic mornings.
Adjustable heat settings up to 450 degrees.
3D technology ceramic bristles.
Heats up in under 2 minutes for a quick and easy straightening experience.
Easy on/off switch.
Uses ionic technology to promote good hair health, keeping you safe from burning and dryness.
Lightweight design for easy travel and storage.
What Hair Type Is The Simply Straight Ceramic Brush Equipped For?
The best thing about the simply straight brush is that it is perfect for all types of hair! Whether your hair is curly, wavy, or full of volume, the simply straight brush will work for you no matter what. Not only will the simply straight hairbrush tame the wildest of hair in minutes, but it will also keep that hair healthy no matter what with its ionic technology. As long as your hair is dry, the simply straight is ready to give you that straight, gorgeous look you desire. From curls to straight in no time!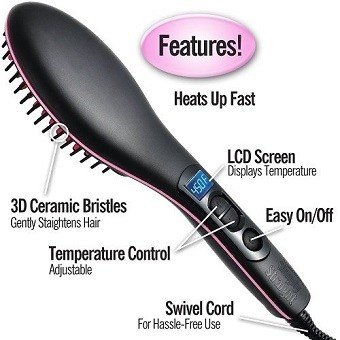 ---
Simply Straight Alternatives
It is important to consider the alternatives to the Simply Straight brush to know that what you are buying is the best choice. It might also be good to search the web for other simply straight brush reviews, where you're sure to find more people thrilled with the product. Below I have compared three other very popular straight brush brands to the simply straight hair brush to see how they stack up. As you'll see, the results were quite interesting and might help you make that final decision.
Dafni Vs Simply Straight
The Dafni hair straightening brush claims to be the original straightening brush and is certainly one of the most popular. Dafni makes a wide variety of great hair products, and this is no exception. While the Dafni brush boasts a quicker heat-up time than the simply straight hair brush at one minute versus two, the Dafni has some features that the simply straight does not.
The Dafni is temperature locked at 365 degrees, which many claims to be the perfect temperature, but not for all. The Dafni also has a shorter cord than the Simply Straight, and it doesn't swivel. The Dafni has more size and color options, but just like the Simply Straight hair brush, only works on dry hair. If you don't care about heat customization, though, the Dafni is a great alternative to the Simply Straight, backed by originality and a strong company.
Related: Luma Brush Review
Apalus Vs Simply Straight
The Apalus straightening brush is sleek and attractive, to say the least. Its blue and black colors scream modern, and the brush itself is equipped with a lot of the same features as the Simply Straight. Both brushes have a swivel cord, both use ionic technology to protect your hair, and both allow for custom heat settings.
The Apalus features what they call "rounded massaging tips" that touch closer to the scalp but don't burn it, to reduce tangles and give you a great feeling of scalp massage as you straighten or brush your hair. If you're in the market for comfort, the Apalus is a great alternative to the Simply Straight, although not as lightweight.
Asavea Vs Simply Straight
The Asavea is a very different-looking brush than the Simply Straight. Bigger and built with a patented anti-scale technology unlike anything else, the Asavea hair straightening brush will surely appeal to many. It may not look as appealing as a traditional brush to some and may be harder to travel with, but it gets the job done with ease and completely tangle free.
The Asavea also boasts a thirty-minute auto-off feature, for when you're in a hurry and forget to shut off your device at home. This is a great feature to keep your house safe. The brush has adjustable heat settings, but rests at a maximum of 200 degrees, a little lower than the Simply Straight, and not ideal for all hair.
That, however, does not stop the Asavea straightening hair brush from being a great straightening brush in its own right.
How To Use Simply Straight Brush?
The Simply Straight Brush is extremely easy to use, making it great for everyone in a hurry. Begin by plugging it in and selecting a temperature that works with your hair.
The led screen displays the temperature (max 450 degrees) and the buttons underneath lower and raises it. Once you've picked your ideal temperature, simply hit the easy-on button and the hair straightening brush will heat up and be ready to straighten your hair in under two minutes guaranteed! Because of the ionic and safety features, feel free to experiment with different temperatures while brushing. Your hair is safe in the Simply Straight Brush's bristles.
When straightening your hair with any hair straightening brush, long slow and gentle strokes are the way to go. Start at the top of your scalp and move down the full length of your hair with every stroke. Hold the bottoms of your hair and travel downward with the brush, being careful not to pull. If the heat seems too much, adjust and try again. Not enough heat? Try lowering it until you find the ideal temperature for you. The swivel cord will help you easily navigate the straightening brush all around your head with ease. Follow and repeat these easy steps until your hair reaches the desired straightness. It's that easy!
Simply Straight Brush FAQs
Conclusion
The simply straight brush is a great choice for all. It combines two of the most common tools in a person's beauty kit into one sleek, easily storable package that is absolutely filled with features. The Simply Straight hair brush is truly a game-changer. If you care about the health of your hair and want to save some time on your routine, this is the straightening hair brush to use. Be ready to fall in love with your new, healthier, straighter hair. I know I have.
About Author (Edna K. Martin)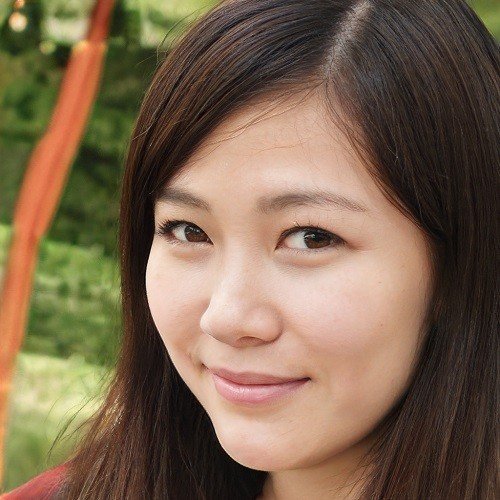 Edna K. Martin is an expert in skincare and hair care. With years of experience in the beauty industry, she has developed a deep understanding of the science behind healthy skin and hair; has a wealth of knowledge about the latest products and techniques. She is a certified skin care coach and has helped many people achieve a clearer and healthier complexion. As a hairstylist, View Profile ››