As an Amazon Associate I earn from qualifying purchases. Learn More
Hair care can sometimes be a challenge. You have to get it right or else your day is ruined. I stumbled upon AsaVea Hair Straightening Brush when I was on the verge of giving up on hair brushes. When I found it, I knew I had already got what I had been looking for.
I loved its variety of colours at the first sight. I had the option of choosing between pink, purple and rose gold. I fell in love with pink, which is what I expected since pink is my favourite colour. Besides the colour, the smooth-rounded surface did it for me.
I liked how it heated up so fast once I switched it on. It took just one minute. So, whatever I have always wanted in a straightening brush, this one gave it all to me. Imagine whenever I use it, I never seem to have enough of it!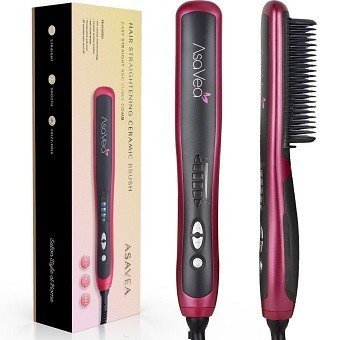 The Asavea Hair Straightening Brush Is Perfect For You. But Why?
Related: Simply Straight Brush Review
Heats Up Fast
This hair brush heats up fast. It takes just only a minute to become ready for your use. So, even if you woke up late, you won't have to worry. No need of worrying about running late for work or your other schedules of the day. It is fast, efficient and saves you time. If you are the kind of person who wakes up late at times, then this brush is just for you. It will make your hair smooth and shiny within a very short time. You won't even notice how much time you spend doing your hair. This also protects your hair from heat-damaging effects because the process is faster.
Freedom To Choose the Right Settings For Your Hair
A Hair Straightening Brush that doesn't discriminate on any hair texture is a superb brush. It doesn't matter whether you have thin, thick, curly, soft or coarse hair, this brush cannot disappoint you. It comes with adjustable heat settings for each hair type. The six temperature levels range up to 392⁰F. Once you switch it on, it automatically goes to 355⁰F. It is up to you to adjust it to your desired heat levels using the available buttons. Your hair type is taken care of without any doubt. The presence of an LCD display makes it easy for you to select your desired temperature range.
Long Lasting
This hair brush is made of ceramic material that heats up slowly. It cannot overheat, thereby giving you value for how much you spent on it. If you want something that will last for a long time, then this is the right brush for you. No need of stressing over other ordinary hair brushes that don't last long. The other notable feature about this brush that makes it last long, is the ability of the swivel cord to turn around at 360⁰. You won't strain it by forcing it to turn around. It is flexible and convenient for you. It also has an automatic shut-off feature that makes it shut down after 30 minutes of not being used. Because of this, it can never overheat, making it last longer.
Hair Smoothening
This particular hair brush works on each strand of hair making your hair soft, smooth, tangle-free and shiny. Coming with 23 heating parts, you only pass it a few times through your hair to get that frizz-free look. The bristles, too, are great. They work on your hair without hurting your scalp. The asavea straightening brush glides through your hair so smoothly, you just have to love the experience. If smooth and shiny hair is your preference, then this is the right straightening brush for you. Nothing turns heads like smooth and silky-looking hair. I tell you, you are going to love this brush!
Related: FemJolie Hair Straightening Brush
Safe For Use
When it comes to safety, no other brush does it better. This Hair Straightening Brush is all about safety first. It is made up of high quality plastic materials that will not burn up your scalp. It keeps its temperatures at consistent levels, meaning you won't burn your scalp or shoulders accidentally. It is very safe and effective on your scalp and skin. Another good thing is the fact that the grip or handle does not overheat making it safe for your use. It will not burn your hands while using it.
Key Features
Six temperature levels ranging from 350⁰F TO 450⁰F
LCD Display
Comes in 3 colours: white/pink, white/purple and rose gold
ON/OFF Button
A rotating swivel cord
Automatic shut-off
Uses Ceramic Heat Technology
Smooth non-grip handle
Measures 10.8x 2.8 x 1.8 inches
Evenly distributed powerful ceramic heated plates
Asavea Pros And Cons
Asavea Hair Straightening Brush FAQs
Final Verdict
So, if you are looking for an all-rounded brush, then the AsaVea Hair Straightening Brush is the right one for you. It gives you convenience and quality whenever you need it. If it's about shiny, smooth and straight hair, then this hair brush is here for you. And if it's about durability, safety and affordability, then this brush has it all for you. You can't afford to miss this great brush in your home. You cannot get this kind of efficiency and value anywhere else. I know what it means to have this brush in your home. With its use, you get amazing results. You just have to treat yourself right with this!
About Author (Edna K. Martin)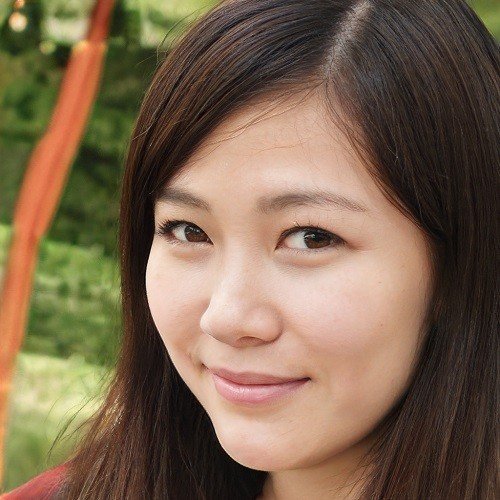 Edna K. Martin is an expert in skincare and hair care. With years of experience in the beauty industry, she has developed a deep understanding of the science behind healthy skin and hair; has a wealth of knowledge about the latest products and techniques. She is a certified skin care coach and has helped many people achieve a clearer and healthier complexion. As a hairstylist, View Profile ››