As an Amazon Associate I earn from qualifying purchases. Learn More
Do you know buying a curved edge flat iron is a cost-effective solution to all your hair styling needs? This is a handy tool that can be used for both straightening and curling your hair. Using a single tool to achieve smooth, sleek straight hair or wavy curls or flips is amazing. It comes with rounded edges that do the same job as a curling iron.
There are many options when looking for a curved flat iron. We have done the hard work and researched the best-curved edges of flat iron in the market. Read on.
Our Top Picks
6 Best Curved Edge Flat Irons
Related: 8 Best 2 Inch Flat Irons Of 2023
This is a versatile hot styling tool that can be used to straighten your hair or create smooth curls, flips, and waves.
This flat iron comes with curved edges where one is concave in shape, and the other one is convex such that when the two edges fit together when closed, they make a C-shape.
This shape helps you to make curls and can also be used for volumizing when applied near your scalp to provide an extra lift.
BaBylissPRO Nano Titanium Styler features 5-inches extra-long plates for quicker straightening, which are made of titanium that makes this straightener more durable.
Because titanium produces high heat levels that style your hair quickly, it uses the Nano titanium technology that protects your hair from heat damage. Its plates resist corrosion and provide a smooth glide through your hair.
It instantly heats up and recovers heat, which speeds up the straightening and styling experience. This flat iron has 50 adjustable heat settings where the maximum goes up to 450F.
This makes it suitable for all hair types because you can choose the optimal temperature for your hair texture.
Key Features:
Instant heat up and recovery
5-inch long plates for quicker straightening
50 different heat settings
An 8-feet long swivel cord
Made of durable titanium plates
This flat iron features curved plates that straighten your hair without leaving any dents or lines. It is also perfect for creating smooth curls, flips, and beach waves because the curved edges will help you achieve such styles effortlessly.
Also, if you wish to create volume for your hair, this is the tool to use. Subjecting it too close to your scalp will add an extra lift to your hair.
It uses tourmaline ionic technology that helps to dry your hair faster and gentler. Tourmaline emits far-infrared heat that is gentler to your hair and prevents your hair from heat damage.
It also generates more negative ions than other plate materials that reduce frizz, for smoother and silkier hair.
With a fast heat-up of 30 seconds, this flat iron speeds up your hair straightening and styling process, which protects your hair from damage. With 20 variable heat settings, this straightener can be used for all hair types.
Its maximum heat goes up to 450 F suitable for coarse and thick hair. It comes with an automatic shut off feature that will turn off the tool once it is not used for long for added safety.
Key Features:
Curved edges for creating smooth curls or waves
20 variable heat settings to suit all hair types
Worldwide dual voltage
Uses tourmaline plates that keeps the hair moisturized
This is a 2-in-1 flat iron and curling iron with rounded plates for creating unique straight and curly hairstyles. The 1-inch width plates are narrow enough to create bangs and awesome hairstyles every day.
Taking only 30 seconds to heat, this titanium flat iron uses ionic technology to release negative ions that eliminates frizz and leaves the hair shiny, soft, and healthy-looking.
Its 3D floating plates with curved edges allow smooth passes without pulling or snagging your hair. KIPOZI 1 Inch Pro Titanium Flat Iron for Hair is designed to fit all hair types.
It comes with adjustable temperature and an LCD that is easy for you to bread and control. It comes with three different temperature modes for you to adjust the temperature suitable for your hair type.
This straightener and curler can be used worldwide because it features a dual voltage to be used anywhere in the world. It comes with an 8-foot 360 degrees swivel cord that allows for a free range of motion and to style hair at any angle.
Key Features:
Adjustable temperature setting
Heats up quickly in 30 seconds
Worldwide dual voltage
Negative ion technology that leaves your hair shiny
Related: 10 Best Flat Irons Under 100 – Top Picks Of 2023
You can transform your frizzy dull hair into a beautiful, shiny, and sleek looking using FURIDEN Professional Titanium Flat Iron. The iron uses mirror face titanium plates that release negative ions when heated to fight frizz.
The plates are 4.7 inches long, which helps to straighten hair faster and reduce the overall straightening time compared to other irons.
It heats up quickly in 30 seconds, which saves energy. Once you turn on your flat iron, it displays the temperature on the screen. It has a different temperature setting that you can adjust to suit your hair type.
The floating plates offer balanced heat and move when you adjust the angle to avoid snagging or tagging your hair. Its 360 degrees longer swivel cord allows for easy maneuverability where you can style your hair from any angle without causing tangles.
Since it is made of titanium material, this flat iron is more durable and lasts longer than other conventional hair straighteners. It comes in a slim design to allow the comfort of use.
Key Features:
Different temperature settings
Heats up quickly in 30 seconds
Straightens and curls hair
360 degrees long swivel cord
Uses more durable titanium plates
This is a salon-quality ceramic flat iron that has curved plates to offer a myriad of styling options. You can straighten your hair, add volume, create curls, waves, or flips.
Its tourmaline-infused ceramic plates provide even heat distribution and come with 12 microsensors regulating the temperature because you can use less heat on your hair. This prevents your hair from heat damage while styling.
When tourmaline is heated, it produces far-infrared heat that is gentler on your hair and protects your hair from damage. Also, it combines with ceramic to produce more negative ions that help to fight frizz and moisturize your hair while styling it.
Karmin G3 Pro Professional Hair Straightener is a reliable tool because its plates heat up under 30 seconds to quicken the hair straightening process.
This flat iron has a variable temperature range from 250F-460F, which gives you total control to choose the optimum temperature for your hair type. This wide range reduces the chances of hair damage while enhancing styling results at the same time.
Key Features:
Heats up real fast under 30 seconds
Compact, lightweight, travel-friendly design
Tourmaline infused high durable ceramic plates
Long plates for quick straightening
This 2-in-1 straightening and curling iron has a rounded shape to create loose beachy waves and comes with a sleek surface to create elegant straight tresses.
Its floating plates with curved edges continuously adjust to your angle to reduce resistance when gliding through and provide more comfort while styling.
Its plates are 1-inch long and are infused with nano titanium technology to conduct heats 2x faster to save your precious time. Since titanium conducts high heat levels, it is great at straightening dense, thick, and curly hair that is hard to maintain.
It fights frizz and offers a long-lasting shiny salon finish. Using the appropriate temperature helps you to create a perfect hairstyle and prevents hair damage.
This flat iron ensures you achieve that because it comes with five personalized temperature settings for you. It has a digital touch control feature for you to adjust the temperature setting from 300F to 450F.
Having an option to adjust the temperature makes it possible to style even the most fragile hair without damaging it.
Key Features:
Dual voltage for global usage
Automatically shuts off after 60 minutes
360 degrees swivel cord for styling from any angle
5 personalized temperature setting
Heats up quickly in 15 seconds
What Is A Curved Edge Flat Iron?
This is a flat iron whose edges apart from being straight have a curved edge. This makes your flat iron a versatile tool that can be used for straightening and creating curls, waves, and flips.
One plate of the curved edge flat iron is concave in shape, while the other plate is convex. When the two plates are clamped together, they for a c-shape help you create a variety of styles.
These flat irons have beveled edges that allow the plates to move freely and smoothly without any hassle. Apart from providing easy maneuverability, such flat irons can be used to create volume.
Related: HSI Professional Ceramic Tourmaline Ionic Flat Iron Review
Who Can Use Curved Edge Flat Iron?
A curved edge flat iron can be used by anybody starting from professionals to beginners. It offers greater maneuverability than regular flat irons and can twist, curl, or spiral your hair easily and effortlessly. This makes it user-friendly to be used by anyone.
Also, since it provides numerous styling options, a person with any hair type can use this flat iron. This means that whether your hair is curly, coarse, straight, coarse, and thick, you can use this straightener to achieve the style you want.
What To Look For In A Curved Edge Flat Iron – Buying Guide?
Clean Your Hair
It is best to start with clean hair if you want your style to last longer. Clean and towel dry your hair. Never use a flat iron on wet hair as it can lead to breakage of your strands.
Apply Heat Protectant
Before using a flat iron on your hair, it is advisable to protect it from heat. Spray some heat protectant on your hair to protect it from heat damage. Brush your hair to remove any tangles with a comb.
Split Your Hair into Sections
Divide your hair into small sections for easier straightening.
Plug in your iron
Plug in your iron and set the suitable temperature that suits your hair type. If your hair is thick or coarse, apply the maximum heat setting. If your hair is thin and fragile, use the lowest heat setting to avoid frying your hair.
Start Curling
Clamp the flat iron around your hair and give it a half-turn so that your hair is in a U-shape. Hold the flat iron in that position and move it down from the root to the end. You will notice a beautiful curl once you have finished this process.
Repeat the process in all hair sections until all your hair is done. To create more defined curls, turn your flat iron in a full turn instead of half, and you will get beautiful tight curls.
Frequently Asked Questions
Can any flat iron curl the hair?
If you wish to curl your hair using a flat iron, look for one that has curved or rounded edges. It works better than a flat iron that has straight plates.
Does a curved edge flat iron damage the hair?
No. a curved flat iron will not damage your hair. You can use it to straighten or curl your hair but remember to apply some heat protectant to prevent your hair from heat damage.
What should you look for when buying a curved edge flat iron?
Heat is the most important thing in flat iron. Buy a straightener that has different heat settings so that you can customize the heat to fit your hair texture.
Conclusion
Unlike common flat irons, curved edge flat irons have many advantages. They have beveled edges that offer better maneuverability, create hair volume, and offer a wide range of styling options.
They also offer dent-free straightening and provide burn and damage protection for your hair. From our review of the best-curved edge flat iron, we highly recommend the BaBylissPRO Nano Titanium Styler.
This is a versatile tool to straighten or curl your hair. It comes with curved edges that help you to create curls, flips, and waves.
For quicker straightening, it is equipped with 5-inches titanium plates that provide high heat levels. With adjustable heat settings, this flat iron is suitable for all hair types.
About Author (Edna K. Martin)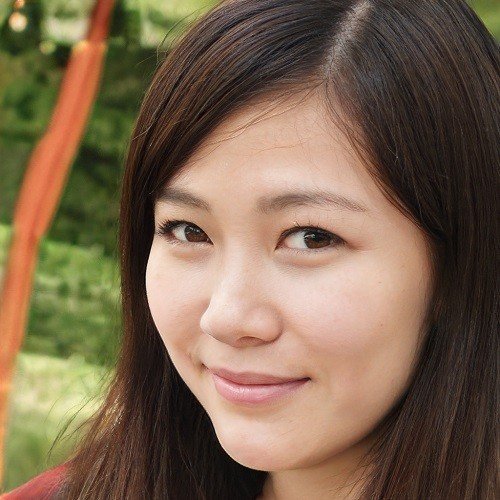 Edna K. Martin is an expert in skincare and hair care. With years of experience in the beauty industry, she has developed a deep understanding of the science behind healthy skin and hair; has a wealth of knowledge about the latest products and techniques. She is a certified skin care coach and has helped many people achieve a clearer and healthier complexion. As a hairstylist, View Profile ››