As an Amazon Associate I earn from qualifying purchases. Learn More
Hi baby, are you with African American hair? Have confusion with your straightener? Don't worry, here is the guide; it will be easy to choose the best flat irons for African American hair. This type of hair is very kinky naturally and rather dry, so it is essential to straighten and flatten it with flat irons that offer even heat distribution to get healthier results. The need to find the perfect flat iron is of utmost importance for any of us with this type of hair as it would give us more enjoyment and satisfaction when straightening and styling hair.
According to the stylist, and founder of Ovation Salon Suites, a quality flat iron can make all the difference when it comes to straightening your hair. "Cheap flat irons tend to be less effective, meaning you must make multiple passes over your hair to get the desired result. This not only takes longer but also increases the likelihood of damage. In contrast, a good quality flat iron will glide through your hair, straightening it in a single pass," she says.
Over the past years, Styles have continuously changed and so has the innovation of flat irons which offer more convenience and flexibility. These days, flat iron provides women with versatility, and using them can go more than reinventing frizz, kinks, and curls into a straight, shiny mane.
Related: 10 Best Tourmaline Flat Irons – 2023
Our Top Picks
Top 10 Flat Irons for African American Hair In 2023
African Americans' hair has significantly benefited from the evolution of these hair straighteners. These hair types are by far the most permeable of all hair types which causes extreme moisture loss, usually leading to increased heat damage. It is vital to find a good flat iron for African American hair to ensure healthier hair.
Searching for the best hair straightener may seem like an overwhelming task, but we've made it easy and narrowed the list down for you on this flat irons list.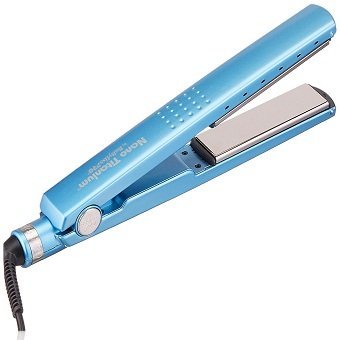 Specifications
| | |
| --- | --- |
| Material: | Titanium |
| Size: | 1.25″, 1.75″ |
| Temperature: | Up to 450°F |
| Color: | Blue, Black |
| Weight: | 1 Pound |
The Babyliss Pro Nano Titanium-Plated Straightening Iron is a reliable hair straightener designed with optimum mechanisms to provide you with different styling options and a styling session free from stress. The flat iron plates can maintain continuous and long-lasting heat throughout your styling session. You will achieve shiny, smooth and well-straightened hair each time you use it to style your hair.
One of these flat iron features is that it is designed with Negative Ions to prevent the hair from getting damaged by sealing its shaft and making it silky and shiny. The Babyliss Nano comes in three different plate sizes which can tackle any type and length of hair.
The ceramic heater on this flat iron can generate heat quickly for up to 450 degrees Fahrenheit and has a fast heat recovery without hot spots that can cause damage to your hair. It is also lightweight, durable and can resist scratch because of its titanium built. The combination of ceramic and titanium is truly what makes this flat iron stand out from the rest of its competition.
This results in hairstyles that will surely bring you plenty of compliments from both sexes. You don't even need to worry if your hair is treated with color as it will stay vibrant longer because the sealed cuticle will protect your hair.
The straightening iron is pretty good for African American hair, and it works great for making easy your curly hair. It heats up quickly, and the temperature control parts are a benefit for the user. The tools leave your hair very straight and reduce frizz. Please watch this video for more about the product.
Pros
Very effective in straightening even coarse, curly and thick hairs.
Very smooth titanium plates.
Scratch-resistant plates.
Easy to clamp and press hair without applying too much pressure.
Multiple heat settings for a more customized experience.
Ryton housing prevents overheating and burning your hands.
Cons
Care is required when using at the highest temperature to avoid getting burned fingers and hair.
A bit more pricey than some flat irons.
PRO TIP: Suppose you are looking for a top-quality straightening iron to help you achieve salon-worthy results at home. In that case, the BaBylissPRO Nano Titanium Straightening Iron is a great option.
This HSI Professional Glider flat iron is a powerful flat iron that combines ceramic and tourmaline crystal ion plates making it one of the best tools available for creating beautifully sleek, shinier hair in less time. With tourmaline, you can get the best distribution of heat possible without the risk of damaging your hair. The plates also help keep your hair straight while you are styling it, so you can cut down on the amount of time it takes to style your hair.
The HSI flat iron features an adjustable temperature setting; that's why you can adjust the temperature from 140-450°F for smooth, shiny hair every time. The HSI glider is compatible with worldwide dual voltage and it works 110v-220v, so you can easily use the tools when traveling. 360° swivel cord gives you more freedom when styling your hair. It is one of the best affordable flat iron on the market. If you require more details, check out this YouTube review of the product.
Pros
Tourmaline-infused ceramic plates.
1st generation professional flat iron for every hair type.
Dual voltage – travel flat iron.
360° swivel cord for a smooth style.
Adjustable temperature from 140-450°F.
Affordable flat iron.
Cons
The plate is a little bit short.
Related: The 10 Best Ceramic Flat Irons Of 2023
The best croc flat iron boasts of being one of the most advanced in the latest technology, ergonomic design, and professional standard hair styling tools that offer an incomparable quality to its users worldwide; Classic Nano-Titanium Flat Iron is no different.
The Croc Classic Nano-Titanium flat iron features titanium plates and a temperature setting that is completely digital which ranges between 280°F to 450°F. It also comes with a 40-minute automatic shut-off feature for safety if you forgot to remove its switch and left it somewhere in your home, which is an essential feature if you're a very busy person.
This hair straightener heats up pretty fast and you can also perform treatments with it like keratin as well and get amazing results. The plates on this flat iron are large enough to work well with very thick and curly hair. I already straighten lots of different hair types with this flat iron, and it works well not only for African American hair but also for all. Croc Classic flat iron heats up insanely fast; it has 25 heat settings, and I have minimal heat damage to using the tools.
You only need to do a couple of passes on your hair and it will be very straight saving you precious time and, at the same time leaving your hair smooth and soft. Aside from this, another great offering of this hair straightener is it locks in moisture and keeps your hair straight for a long period even if you're living in a humid place. This video helps you to know more about the product.
Pros
40-minute automatic shut-off system.
Very lightweight and you can easily take it when traveling.
Advanced nano-silver technology for sterilization and deodorization.
FND digital display.
Digital temperature control system.
The precise temperature at all heat settings.
25 heat settings that range from 280 to 450 degrees Fahrenheit.
Advanced ceramic technology.
Cons
May sometimes cause damage if not used any heat-protecting solution is.
Can get really hot when set to high heat.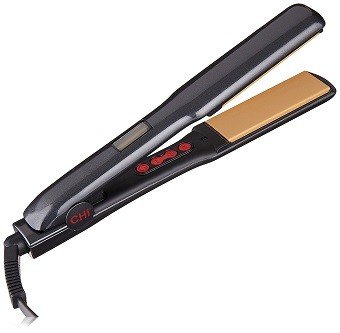 Specifications
| | |
| --- | --- |
| Material: | Titanium, Ceramic |
| Size: | 1.25″ |
| Temperature: | Up to 425°F |
| Color: | Black |
| Weight: | 15.87 Ounces |
CHI G2 flat iron is a revolutionary hair straightener that utilizes ceramic and titanium to create silky, shiny and smooth hair. The key to these properties is the titanium-infused ceramic plates. Ceramics is a natural insulator that provides protection from damage and helps to protect hair from over-exposure to heat. Titanium is a lightweight, sturdy material that helps create razor-sharp edges and allows the G2 to heat up in seconds.
The G2 uses upgraded technology with a sleek design, which means it won't damage hair the way your flat iron does. It's also designed to glide through hair without tugging or causing breakage. CHI G2 Ceramic and Titanium flat iron are designed to be used on all hair types. The high heat is great for making your hair smooth and shiny. Many flat irons have only one temperature setting, but CHI G2 has a range of temperature up to 425°F. This is great because you can choose the setting that works best for your hair type.
It has a color-coded LCD screen digital temperature display that sets the proper temperature regarding your type, like fine, medium or coarse hair. Another very useful feature is dual voltage to allow international travel.
Pros
Titanium Infused Ceramic Plates.
Heat up as quickly within 40 seconds up to 425°F.
Dual voltage for travel use.
Digital LCD display.
"Mode" button for preset temperature.
Cons
Auto shut off after an hour.
One plate size.
The ghd Platinum is the latest styling technology from ghd, the world's largest professional hair care brand. It comes in beautiful ceramic floating plates with different colors and styles for the ultimate results of healthier and stronger hair. It can ensure 365ºF optimum temperature, making it perfect for straightening hair quickly with 70 percent stronger hair and 20 percent shine. A flat iron is the perfect hair tool for creating sleek, straight styles or loose, curls, and beachy waves.
The Ultra-Zone technology ghd flat iron features universal voltage that allows it to be used anywhere in the world with 30 minutes of auto-sleep mode. A 9ft swivel cord helps to prevent tangling and delivers convenient hair styling. This incredible tool gives you the power to make the best of your hair, no matter the current style or shape. So, if you're looking for a great hair tool, look no further than this ghd Platinum Ceramic Flat Iron.
Pros
Ghd platinum ceramic flat iron with Ultra-zone technology.
Monitor the temperature 250x per second.
Create the ultimate hairstyle with a salon finish.
9ft swivel cord allows suitable hairstyles.
Auto shut off and universal voltage.
Cons
No adjustable heat setting.
The T3 Professional styling iron is specifically designed with a slim, lightweight, and ergonomic design that makes it easy to style your hair like a professional. The Lucea 1" Professional Straightening Styling Iron Digital Ceramic Flat Iron from T3 heats up to 410 degrees F / 210 degrees C to help you achieve the perfect look.
It has 9 digitally controlled temperature settings that allow you to set the right temperature for your hair type. It is suitable for all hair types, and the digital temperature control makes it easy to adjust.
This flat iron glides through hair from roots to ends quickly and lets the heat penetrate the hair. It features a 1-inch wide digital ceramic plate to ensure fast styling with greater control. The T3 styling flat iron has a 1-hour auto-shutoff feature that prevents overheating, so you don't have to worry about overdoing it. It is also lightweight, so it is easier to handle and maneuver when styling your hair.
Pros
Longer plates ensure faster styling.
One hour auto-shutoff.
9ft swivel cord.
Auto world voltage allows users around the world.
Smooth and shiny hairstyles in just one pass.
Cons
Related: 6 Best Paul Mitchell Flat Irons Of 2023
Paul Mitchell Pro Tools Express Ion flat iron is just about every stylist's dream come true. It heats up fast, glides through hair with ease, and can straighten or curl with equal precision. The ceramic plates digital professional flat iron polishes and smooth strands quickly and get healthy-looking hairstyles with ultra shine.
The Paul Mitchell pro flat iron heats up quickly within 60 seconds, up to 410°F and cools quickly with a five seconds recovery time, that's why it is an ideal flat iron for all hair types.
For easy-to-use adjustable temperature control with a large digital display, so you aren't burning your hair when using it. Another feature of the Paul Mitchell flat iron is dual voltage allows for worldwide use.
The far-infrared technology also allows the plates to glide effortlessly through hair, so you don't have to pull on your locks as much when you're styling. The plates are smooth; you will want to run your fingers through your hair to feel how soft it is.
Pros
Heats up to 410°F within 60 seconds.
Infrared technology provides silky-smooth results.
Dual voltage makes this flat iron suitable to use worldwide.
Two different sizes are available, 1.25″ & 1.5″.
Large digital display.
Adjustable temperature control system.
Cons
One Color flat iron.
Expensive.
When looking for the best flat iron for your type of hair, you should consider a company that professionally approaches hair straightening. The Rusk Engineering CTC Technology Professional Straight Iron takes all the study and facts to perfectly straight hair.
It combines it all into one amazing product that is worth your money. It is packed with quality features and comes at an affordable price, making it stand out from its competitors. The Rusk Engineering CTC hair straightener combines a ceramic heater, Ryton housing and ceramic plates infused with titanium giving an unparalleled performance while giving protection to your hands from heat.
This professional straight provides a shiny, smooth and result. It is lightweight and the titanium-infused ceramic iron uses a technology that produces even heat distribution from the roots of your hair to its ends and a glide so smooth. You can even position the flat iron as close to your hair roots as possible, then slowly guide it from roots to ends.
Straightening your curly, long, or thick hair will be an easier task with the best Rusk flat iron because of how lightweight its body is. And it's also perfect for those who love to travel and can't live without their flat iron in tow. Another good feature of this hair straightener is its ability to heat pretty quickly, reducing the time it'll take for you to straighten your hair. With heat reaching 450 degrees Fahrenheit, this flat iron can straighten even the most difficult types of hair.
That is the flat iron; RUSK Engineering CTC has the ceramic heater and titanium-infused plates that make your hair straighten, smooth and fight frizz. The iron is elementary to use, and it works well if your hair is curls and waves as it gently glides through your hair without pulling your hair.
Pros
Hair is protected from damage because of its controlled heat.
Efficiently and quickly straightens hair.
Plates can experience glide smoothly without tugging and tangling.
Great value for money.
Lightweight.
Heats pretty fast.
Cons
No light indicator to let you know when the temperature is up.
A bit pricey compared to others.
You can accidentally change the setting because the temperature controls are at the side.
Bestope Flat Iron Hair Straightener uses top-notch floating ceramic plates that are long-lasting, evenly and quickly heat up. This hair straightener from Bestope is ideal if you're always on the go. It will always keep your looking at its best, which will surely give you a confidence boost when you're out and about. This flat iron is very easy to use and affordable and comes with all the features you are looking for to keep your black hair tamed at all times.
Bestope flat iron is equipped with 10 temperature levels, so you can find the perfect temperature for straightening any type of hair. The flat iron's temperature ranges between 15 degrees Fahrenheit to 450 degrees Fahrenheit. The flat iron does heat up to 450°F within 30 seconds. From my personal experience, I recommended the flat iron! After I blow dry my hair, it took me about 15 minutes to iron, and it works perfectly.
From the different heat settings, you can straighten the hair in different ways. Its heating system saves electricity, prevents it from heating excessively and prevents scalding. You also don't have to worry about which temperature would be suitable for your hair type because the floating ceramic plates on this flat iron can adjust automatically to your hair type.
The hair straightener's temperature is adjustable and makes sure you achieve the result you desire and can differ according to your hair type. It also features an automatic shut-off after 60 minutes on idle, giving you the peace of mind you need even if you left it plugged in.
Pros
Fast and even heating.
Memory temperature.
Automatic shut-off.
Has 10 levels of temperature.
Specially designed ceramic floating plates prevent heat damage.
Maintains consistent heat temperature.
Has a LED display for temperature.
One-button temperature recovery.
Works great with thick, coarse and curly hair.
Cons
Tends to pull hair.
There were some issues with durability.
Onei MK-I Halo Ceramic flat iron is considered to be one of the best hair straighteners in the market today and also for African American hair. This hair straightener features a pair of multicoated floating ceramic plates to ensure that your hair will be as shiny, straight and smooth as possible.
These floating plates easily allow you to curl or flip your hair.​ The ceramic plates on Onei MK-I Halo were carefully designed to avoid tugging the hairs and have mild infrared and negative ionic energy, which gives even more protection to your hair.
The heating and cooling down process on the MK-I Halo is fast. The high-quality plates will allow you to style your hair in as little time as possible compared to some of the hair straighteners in this price range.
If you tend to be forgetful, the Onei Halo comes with the perfect feature for you. It has an automatic shut-off feature, so after about half an hour of not using it, it will turn itself off. You no longer have to worry or wonder if you've turned off your flat iron when you go out.
This MK-1 Halos Ceramic hair straightener is a top-notch product and is priced fairly reasonably, especially because it will save you plenty of cash on trips to the salon for keratin treatments.
Its display makes it easy for a do-it-yourself keratin treatment right in the comforts of your home since you have full vision of the temperature settings at all times. This product is a professional flat iron easily available to those willing to give it a try.
This Ceramic flat iron has stylists raving about it, and it's the latest solution for almost any hair type, including those treated by Keratin. The MK-1 Halos Ceramic flat iron did not pull on your hair; you can straighten each section of your hair within a single pass.
When you use this iron, you may surprise that it can provide smooth, glossy, and perfectly straight hair. I set the heat setting – 450 degrees, but I will turn down the temperature because my hair smells just a teensy bit burnt.
That is the hit setting perfect for the lady who will be harder to straighten her hair.
Pros
Ceramic floating plates.
Safe for use with all types of hair.
Adjustable temperature settings.
Fast, even and reliable.
Ideal for Keratin-treated hairs.
Cons
You need several passes to straighten your hair.
Can sometimes pull hair.
Beeps when it reaches 450 degrees.
First-time users might find it a bit bulky.
How To Pick The Right Flat Iron for African American Hair?
It would help if you considered different things before buying the best flat iron model for African American hair. It is essential to assess your hair type and its needs and ensure stylish and damage-free hair.
Related: Our 7 Best Flat Irons Curling Iron Combo In 2023
Types Of Hair
All of us come with different types of hair that can, most of the time, impact the best flat irons available in the market today. Black hair can be categorized into four main types such as hair with a straight texture and a few curls, coarse texture with wavy hair and other two are those hairs that are curly with add more volume and the last one is kinky type which is sensitive when it comes to styling it. Recommendations from hair straightener manufacturers should be taken into consideration when purchasing the product.
What Type Of Styling You'll Do with Your Hair
Choosing the ideal flat iron for your hair type can also be affected by the options of styling you want on your hair. Styling African American hair is more prone to damage since it's dry most of the time so make sure that the flat iron you will purchase can handle the types of styling you have in mind.
Features Of The Flat Iron Should Be Understood
Keep in mind when choosing a hair straightener for your hair that delivers the best possible results. Look for the best flat irons for black hair that comes packed with high-quality features. How well you can achieve the styling can also affect the number of features offered by a certain model. Some important features to note are safety switches, temperature settings that can be adjusted and ergonomic handles, to name a few.
Type Of Hair Straightener Material
Flat irons are made up of materials like ceramic, tourmaline, or titanium, which is important in how the flat iron will perform. The ceramic type seems to be the most popular hair straightener because it is more economical than the other two types. It can straighten black hair even at low temperatures giving you great-looking hair without bending your budget. The best tourmaline flat iron gives you one of the best stylings of your hair.
This hair straightener is well-loved for providing an easy way to smoothen out the hair while preventing hair from getting damaged further from the flat iron's heat. The other type, the titanium model, is best to use when you want to straighten your hair. It usually has plenty of important control settings that you can choose to suit your hair type better.
If you want to learn more about these settings, you can contact its manufacturers and they'll be happy to answer any questions you have in mind.
Other Considerations
Do not choose flat irons with fixed temperature control; opt for adjustable ones since lower-limit ones will not work with thick hair.
For safety purposes, pick a hair straightener with an automatic shut-off feature that comes in all new models.
Plate size is another thing to consider if you want more applications to go with wider and larger plates.
Best Flat Irons for African American Hair FAQ
Conclusion
When it comes to beauty products and techniques, the old saying knowledge is power should be applied. Knowing and understanding what type of flat iron will help keep your hair healthy. Split ends and other hair issues can also be prevented by choosing and using the right hair straightener. The top 10 flat irons on this list have the best technology and materials, such as ceramics, titanium, and tourmaline. The best hair straightener for all hair types also features ergonomic handles that make it comfortable to use. These flat irons have all the requirements to meet the needs of your hair and any one of these will be a great addition to your hair styling tools and a perfect investment for your precious locks.
How To Flat Iron African American Hair? [Infographic + Video]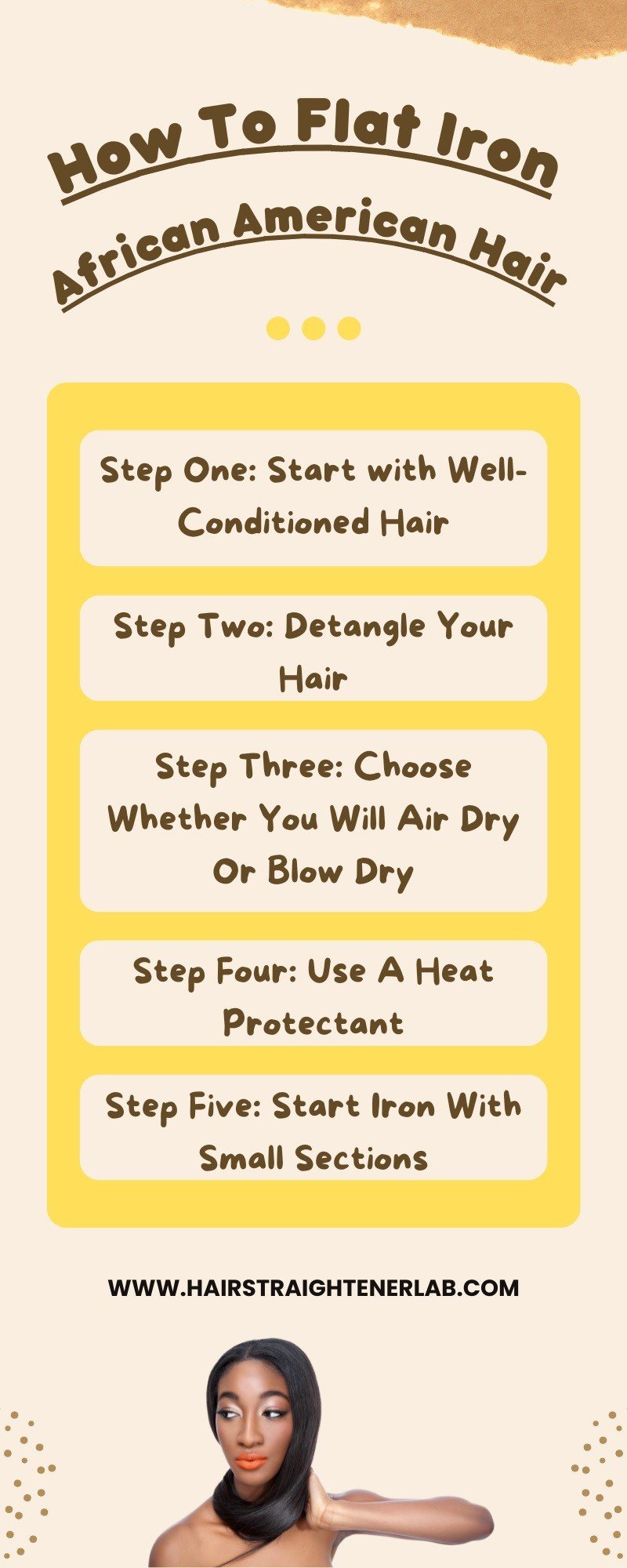 UP NEXT: Best Flat Irons for Thick Hair at Every Price Point
About Author (Edna K. Martin)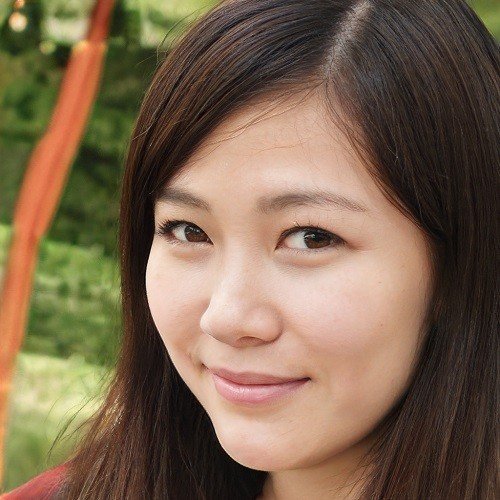 Edna K. Martin is an expert in skincare and hair care. With years of experience in the beauty industry, she has developed a deep understanding of the science behind healthy skin and hair; has a wealth of knowledge about the latest products and techniques. She is a certified skin care coach and has helped many people achieve a clearer and healthier complexion. As a hairstylist, View Profile ››