As an Amazon Associate I earn from qualifying purchases. Learn More
November 7, 2022 by Edna K. Martin – Hairstylist, Certified Skin Care Coach
Curly is a fashion which most individuals like especially when attending those special occasions. Curling irons are of different types and each offers varied types of curls.
Conair Infiniti Pro Curling Iron is a type of curling iron that can be classified as an automatic curler.
Once the hair to be curled is placed in the iron's barrel, it takes in the hair, spins it round the portion which is hot while holding it there for some time bringing it out perfectly curled.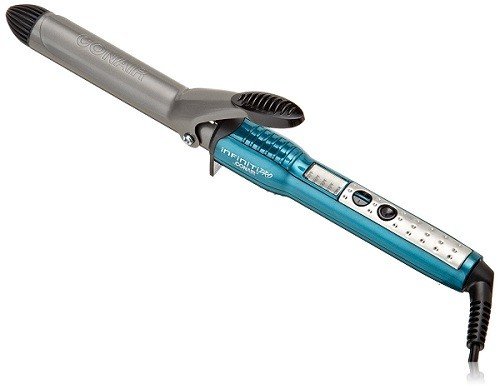 Conair Infiniti Pro Curling Iron Is Best For You, But Why?
Heater High-performance Technology
Heating facility in curling irons is of much importance. This Infiniti Pro by Conair Nano Tourmaline Ceramic Curling Iron has majored on this part with a heater of high-performance which ensures heating up as well as recovery is instant.
Such technology makes heating up of the iron take only 30 seconds. Once the iron is plugged in, the iron's red light begins blinking. Such implies that the iron is heating up.
Once the blinking comes to a stop then the iron's red light becomes solid, you are good to go. With this iron, you waste no time or need no additional effort for the curling session to kick off.
Three Time Setting And Two Heat Levels
For convenience of its users, this curling iron is fitted with two setting of heat levels that aid in setting the iron at the level of heat which is perfect for the hair. The two setting are Low and High. The highest reachable level is 400°F.
So as to set the time which is desired, the iron as well features three varied time setting which help in setting it to time length of preference. The time settings are 12, 10 and 8 seconds length of time.
For this you can make use of both the timer and heat settings. Once the hair is placed in the clamps then closed in, the clamp slides the hair into iron's motor. When time set is over and the hair should be clamped out, the iron beeps.
If set to 8 seconds, the beeps will be three, for ten seconds the beeps are four and for 12 seconds, the beeps are five. You unclamp and take off the hair after the beeps are over.
Brushless Professional And Long Lasting Motor
The iron offers brushless professional motor. This is a technology important for the hair. It helps in the process of coming up with perfect and smooth curl as well as boosting the curling task.
The same product's motor as well is long lasting as it incorporates safety sensor for ensuring production of curls that are tangle free. Once you put more hair than needed or tangling occurs in the clamp, the iron beeps and instantly curling stops.
Heating Facility
Curling requires the proper required heating amount. If the hair is so unruly and it needs to be curled, you must have high heat levels. This kind of iron goes up to a heat level of 400°F which is a level fir for any curling type. Even with thick long hair, perfect curls will be obtained.
Tourmaline Ceramic
This is a type of technology which aids in giving the hair smooth curl and perfect shiny saloon curl. The iron has tourmaline ceramic that is properly and evenly heated giving a nice and smooth curl.
Features Of Infiniti Pro Conair Curling Iron
Five heat settings which include two heat levels settings and three time heating settings.
30-second heat up to ensure instant heating up of the iron.
Features powerful ion motor generator which does away with frizz.
It has an outer barrel made of stainless steel which heats to 400F for curls.
It has two silicone cool removable tips.
Conair Infiniti Pros And Cons
Frequently Asked Questions
Can I incorporate use of styling products with Infiniti Pro Conair Curling Iron?
Yes you can. Just like the other curling irons, you can make use of styling products since any residue will be removed by the cleaner.
To get best curls, what preparation are needed while using Infiniti Pro by Conair Nano Tourmaline Ceramic Curling Iron?
What you need is ensure the hair to be curled is clean, combed and dry and while placing it in the chamber, ensure it's straight.
When is the curling iron ready for use?
Once the power is turned on a red flash from the indicator is noted. Once the iron turns solid, it's now good to go.
Final Verdict
Conair's hair curler is among the curling irons which make use of new ideas as well as bringing some refreshment in the products' family.
It pulls the hair to be curled to a chamber which then spins the hair around an internal, heated barrel, unlike the other curlers which need wrapping of the hair around an exposed, large barrel.
Although most persons dislike its design and the fact that curls made do not stay longer, the unique curl shape produced makes it best to use for hair to attend special occasions.
Above all do not lead a boring life with boring hair. Get yourself Conair Infiniti Pro curling iron to break that boredom which is among the best available.