As an Amazon Associate I earn from qualifying purchases. Learn More
I'm the kind of woman who doesn't fancy salons that much, I actually get a bit behind on hair trends most of the time. I actually don't think I even bought a flat iron until 2015! I just took a glance at my old flat iron's heat plates and I knew I have got to get a new one.
After doing some research online, I found myself buying the Karmin G3 Salon Pro. Though that may seem like not that too long ago, it does feel like flat irons have revolutionized a lot since then. The difference is pretty obvious and I retired my old one after my first use and happily made the permanent switch to the Karmin G3 Salon Pro Professional Ceramic Flat Iron.
This hair tool is quite impressive; I can easily style my hair any way I like and I can even do fancy salon-like styles right at home. One of the first things that caught my attention was the smoothness of the tourmaline plates on this flat iron.
The reason for this is probably the use of ionic technology and the benefits it gives the ceramic heat on the Karmin and then combining it with tourmaline plates that are as smooth as a mirror. Now let's have a look at the other great features offered by the Karmin G3.
Why is Karmin G3 Salon Pro Best For You?
Related: Paul Mitchell Protools Express Ion Smooth Flat Iron Review
Damaged Hair Doesn't Care!
The clever people behind the design of the Karmin G3 Hair Straightener have taken all the necessary precautions to make sure that this Karmin will cause as little damage to your hair as possible. If your hair has been damaged by color treatments, environmental circumstances or different chemical causes or you're just simply worried that it'll be damaged.
It is ideal to start using it at 176 degrees Fahrenheit, which is the lowest possible temperature of the Karmin, and then slowly and carefully work upwards until you've found the suitable temperature for your hair.
Tourmaline And Ceramic
The top-listed flat iron, Karmin G3 Salon Pro has ceramic plates with a tourmaline covering that provides the ultimate smooth finish. 1″ pure tourmaline ceramic plate flat iron ensures not only do you get the constant heat and maintenance needed to straighten hair, but also get the necessary moisture to stop hair from seriously frying.
What's In A Gemstone?
The Karmin G3 Salon Pro's ceramic plates are finished with a coat of the highest possible quality of tourmaline gemstones that have been crushed. This can effectively and efficiently straighten hair at low temperatures than just the ceramic plates alone because of its frizz-fighting negative ions.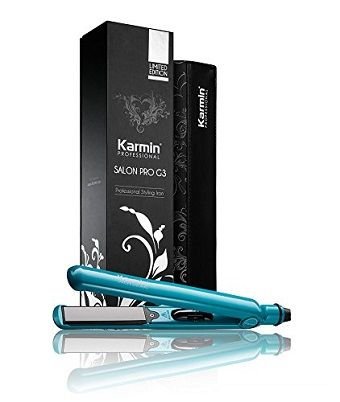 To lock in the moisture of your hair's natural oils, the Karmin G3 Salon Professional Ceramic Flat Iron also comes with far infrared heat as well as what is known as micro-porous technology. This will ensure the protection of your hair's shaft and cortex from any type of damage making your hair shiny, silky, soft, and of course…straight!
A Look To Match
Functionality is not the only thing Karmin offers. I really love its stylish and sleek overall design. The casing and the black tourmaline plates are nothing short of elegant and have this refined and chic look to them which will look amazing on your dresser table. If black is not your color of choice, you don't need to worry because the Karmin comes in shades of purple, teal, pink and white.
Related: HSI Professional Ceramic Tourmaline Ionic Flat Iron Review
Karmin Is Loved By Everyone
There are numerous reviews of the Karmin G3 Salon Pro on the internet and in most cases, its buyers gave it near about full marks. People with all types of hair are super impressed with how effective Karmin is (I know I am!) in straightening their hair. Most of the people who have pleased, then mention the product are very many stylists.
Basically, the product is being used in salons, and when straighteners are used by professional stylists, they are used every day and clients are going to expect nothing more but the best possible results for paying a lot for service. So if the Karmin is being used in salons, then you know they're a top-notch product.
Around The World With Karmin
Another thing that I love about this product is that you can use it and take it with you anywhere around the world. The Karmin G3 comes with a dual voltage that is universal and can be used anywhere in the world.
It is a great travel buddy and all you need is the correct right outlet adaptor and you're all set! Aside from this, it also comes with an automatic shut-off, so if you're quite forgetful like me, you won't have to worry about your house getting caught on fire, the Karmin when left on, will shut off by itself.
Oh, and did I mention it also has a carry case that you can also use as a heat-protecting mat? Yup! You can put the Karmin down on your table and it will not leave any ugly burnt marks.
Notable Features Of Karmin G3
Advanced high-quality tourmaline ceramic plates.
Negative ions and infrared heat for silky shiny hair.
Professional-grade heating system for quick heating.
Different temperature settings to suit all hair types.
100-240 Voltage which can be used anywhere in the world.
3-meter tangle-free swivel cord.
Comes with a carry case used as a heat mat.
Drop safe technology.
Automatic shut-off.
Karmin G3 Pros And Cons
Karmin G3 Salon Pro Flat Iron FAQ
To use the Karmin G3 Salon Pro Flat Iron, plug it in and turn it on. Use the temperature controls to adjust the heat setting to your desired level. Section your hair and use the flat iron to straighten or curl your hair, starting at the roots and gliding down to the ends. Be sure to use a heat protectant spray on your hair before using the flat iron, and avoid leaving the iron on any section of hair for too long to prevent heat damage.
To care for your Karmin G3 Salon Pro Flat Iron, ensure it is unplugged and cool to the touch. Use a soft cloth or brush to clean the plates, and never use abrasive cleaners or scrubbers. Store the flat iron in a cool, dry place and avoid dropping or exposing it to water or other liquids. Additionally, make sure to periodically check the cord for any signs of damage and replace the flat iron if there are any issues with its performance or safety.
The Karmin flat iron heats up quickly within 20 seconds with variable temperature settings from 20°C (250°F) to 240°C (460°F).
Conclusion
I think the Karmin G3 is one of the best professional flat irons on the market today and is highly recommended for people whose hair was damaged or fragile but not so much for those with a coarse or thick mane. This product deserves to note as a good quality hair straightener not only for its functionality but for its chic and stylish design, as well as its tourmaline plates of the highest quality. I love the results my hair is getting from it and I'm sure you will love Karmin G3 Pro as much as I do. The price may be a bit steep but overall it's worth every penny.
About Author (Edna K. Martin)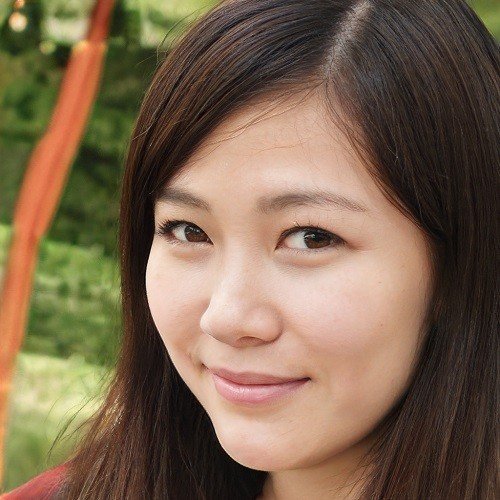 Edna K. Martin is an expert in skincare and hair care. With years of experience in the beauty industry, she has developed a deep understanding of the science behind healthy skin and hair; has a wealth of knowledge about the latest products and techniques. She is a certified skin care coach and has helped many people achieve a clearer and healthier complexion. As a hairstylist, View Profile ››