As an Amazon Associate I earn from qualifying purchases. Learn More
Smooth and frizz-free hair is what every woman desires, yet only a few have it. Others try as much as possible to find a way to make their mane smooth and frizz-free. This is where keratin treatment comes in. Keratin for hair helps fight frizz, tangles, and makes the hair smooth. On the other hand, it could be harmful to the hair if care is not taken. In this article, we will discuss everything you need to know about keratin for hair.
What is Keratin?
Keratin is a protein that is present in the hair, nails, and skin. Its major function in the hair is to make it smooth and prevent frizz, heat damage, and hair breakage. Because of this benefit, many hair care brands are now adding keratin to their products. Keratin products are beneficial to those with thick and frizzy locks. On the other hand, it might not be all that beneficial for those with fine hair.
Pros of keratin for hair
Keratin is quite beneficial to the hair. You could opt for a keratin treatment or keratin-infused products. Whichever method you use, here are some of the benefits of keratin for hair:
Related: How To Keep Your Hair Dryer Cord Straight And Untwisted
Helps repair and strengthen damaged hair
One of the advantages of keratin for hair is that it helps strengthen the hair and repair damaged locks. If your hair has been damaged by chemicals or heat damage, you can use home keratin products to repair it.
It smoothens the hair and fights frizz
Smoother, shinier, and healthy-looking hair can be achieved using keratin-infused products. These are frequently available in oil or serum form. When you use these products, they help protect your hair against humidity.
Adds shine to the hair
Another benefit of keratin is that it adds shine to the hair. Keratin treatment helps to smoothen the hair cuticle, thus making it shiny. While salon services may produce more noticeable results, at-home keratin treatments also give healthy-looking hair.
Related: Can You Bring A Hair Straightener On A Plane Carry-On
Reduces drying time
Another thing that keratin does is that it reduces drying time. When applied to the hair, keratin reduces the porosity of your mane. This means that it repels moisture and less water is trapped in the hair. For this reason, it makes the drying of hair quite faster.
Cons of keratin for hair
Although there are lots of benefits associated with using keratin for hair, there are some drawbacks as well. Here are some cons of using keratin for hair:
Exposure to harmful chemical
One of the potential risks of using keratin for hair is that you will be exposed to harmful chemicals. Almost all keratin treatments have a chemical called formaldehyde. This chemical is responsible for the straightening of hair. But, this chemical could be risky for your lungs when inhaled. The risk of exposure to formaldehyde could cause side effects. The side effects include irritation to the nose and could cause damage to your mane. Besides, it is not recommended for pregnant women as it could be dangerous for their fetuses.
Related: Can Lice Survive A Hair Straightener
It is quite pricey
Another disadvantage of keratin treatment is that it could be costly. The cost could be between $300 and $1000; it depends on the salon and your location. But, if you are on a tight budget, you can opt for a less expensive option, which is at-home keratin treatment. The only drawback to this is that the result will not last long compared to if you do it at the salon.
High maintenance
Another potential risk of using keratin for hair is that it is high maintenance. For instance, you have to wait for three to four days after the treatment before you wash your hair. This is because of the amount of maintenance it needs. For instance, if you wash your hair immediately, it might tamper with the outcome of the keratin treatment. Besides, you will have to avoid shampoos made with sulfate or sodium chloride. This is because shampoos made with these chemicals strip off the keratin from the hair.
How to use keratin for hair?
There are various techniques for using keratin on hair to get stronger tresses that are lustrous and frizz-free. Here are some of the ways to use keratin for hair:
In-salon keratin treatment
In-salon keratin treatment, also known as a Brazilian blowout, is the use of chemicals and heat to seal in protein in your mane. This treatment should only be done by professionals. The timeframe for keratin treatment could be between two to three hours. Your hairstylist will first of all wash or wet your hair. Then they will apply the keratin treatment to your hair and let it sit for about 30 to 45 minutes.
During this timeframe, the keratin will deeply saturate your mane. After the stipulated time frame, your stylist will now blow dry your hair. Then they will use a flat iron to seal the keratin treatment into the hair. This method makes your hair straight, smooth, and shiny. In-salon keratin treatment is also known as the semi-permanent straightening method. This is because the result could last as long as six months.
Use of keratin-infused products
Another method of using keratin for hair is by using keratin-infused products. For instance, there are some serums that are keratin-infused. You only need to apply them when the hair is wet; they help improve the shine of the hair and also reduce drying time. You can also go for keratin-infused shampoos. These shampoos are also known as "smoothing shampoos." They do not only help clean the hair but also aid in combating frizz in your mane.
We also recommend that you opt for a keratin-infused hair mask. These hair masks help to repair chemically or heat-damaged hair. For a keratin-infused hair mask, you should apply it to wet hair, then let it sit for a few minutes. After that, you can rinse it off and style it.
Final thoughts
The bottom line is that thicker, frizzy hair may be easier to manage after a keratin treatment. Using keratin for hair aims to smooth the cuticle of the hair, giving the strands a lustrous and shiny appearance. Besides, it speeds up drying time by reducing the porosity of the hair. But, the treatments are pricey, and formaldehyde can be harmful if inhaled. So make sure you get the treatment in a well-ventilated room. Also, you can go for less harmful methods by opting for using keratin-infused products for your hair.
About Author (Edna K. Martin)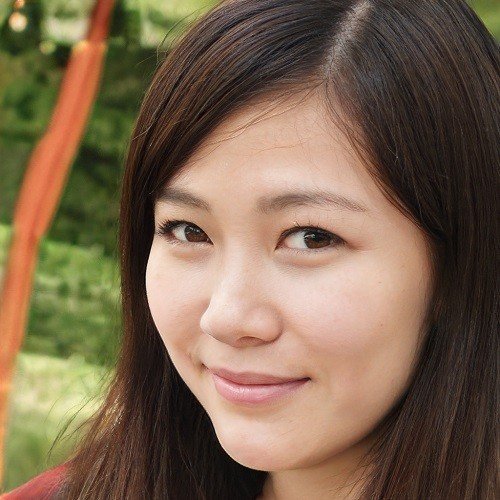 Edna K. Martin is an expert in skincare and hair care. With years of experience in the beauty industry, she has developed a deep understanding of the science behind healthy skin and hair; has a wealth of knowledge about the latest products and techniques. She is a certified skin care coach and has helped many people achieve a clearer and healthier complexion. As a hairstylist, View Profile ››