As an Amazon Associate I earn from qualifying purchases. Learn More
We are living in a world where fashion and trends have become everyday things. We sleep, dream and wake up with fashion in our heads. Everybody wants to feel and look good. For the modern woman, our heads are our crowns. In that way, hair is an essential part.
It has reached a point where a wedding function will feature a different hair design, a sleek design for an office day and a dramatic one for a party or any other function. I have not been left behind. The bad hair day reign has come to pass. Life has never been the same since I discovered the hot air brush.
Whether I am on the road working or at home resting, my crown is always set. The flexibility that comes with these hand tools is unimaginable. From sleek straightened professional looks, to curl and bouncy designs, the best hot air brushes are a must-have in a lady's handbag.
As there have been questions on…
Whether this hot airbrush will be suitable for people with short hair, is because short hair has special requirements and treatments when it comes to hair maintenance.
Please do not panic as the hot air brushes come in various sizes and designs to cater to all hair lengths.
Besides that,
The hot air brush will work well on all hair types, naturally curly and kinky hair, which is rather difficult to style to the more manageable straight American hair and Asian textured hair.
A refreshing shampoo accompanied by a hot air brush achieves desired results.
With this said, I would like to urge you to read along and know more about the different types of hot air brushes in the market today.
Related: Best Hair Bleach
Our Top Picks
Top 10 Hot Air Brushes In 2023
You will never go wrong with Revlon One-Step Hair Dryer and Volumizer hot airbrush. Constructed with nylon pin and turfed bristles, be confident as the bristles are strong enough to blow dry your hair.
They not only blow the hair, but they detangle hair strands saving you money that you would have invested in buying a detangle brush.
Incorporated with ION technology, your hair dries faster, saving you time while creating styles that will leave everybody turning their heads in the office.
Whether you are traveling or at home, the BaBylissPRO BABNT178 Nano Titanium will be a perfect companion. A rotating barrel that is bi-directional, achieves the loose curls that you have wanted for so long.
Equipped with both Nano titanium and Ionic technology, get volume and smooth, shiny and healthy hair.
Whether you are working on your hair or the soft baby hair, trust that John Frieda Hot Air Brush will work to give desirable results.
With a 500 watts power capacity and ionic technology, it enhances hot airflow evenly on the hair surface to give a perfect volume while at the same time reducing the level of damage to your hair.
Featuring 360 degrees swiveling cord, this hot air brush allows you to navigate through your head with ease to achieve different hairstyle designs.
Related: Best Hair Clips For Thick Hair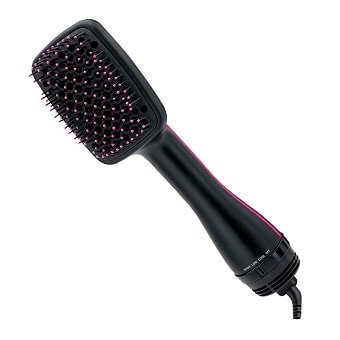 If you are a woman who desires gorgeous perfect hair, Revlon One-Step Hair Dryer and Styler hot air brush should be your everyday plug.
Besides achieving that full body and bouncy hair look, look into this hot air brush for detangling purposes with fewer breakages. With a flexible pad, you are assured of fast-drying and smooth healthy hair.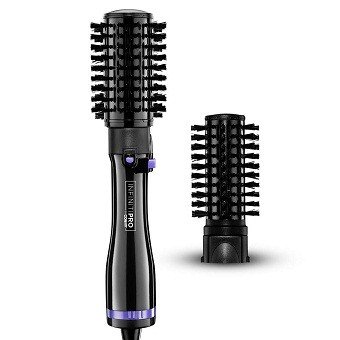 Are you rocking an afro, straight or Asian hair type, short or long hair? INFINITI PRO BY CONAIR Hot Air Spin Brush has got you.
It features detachable 2-inch bristles barrels for the long thick hair and 1 1/2- inch bristle barrel for the short hairs to achieve beautifully volume curls. Unlike other hot airbrushes, it has a removable filter that eases the cleaning process after regular use.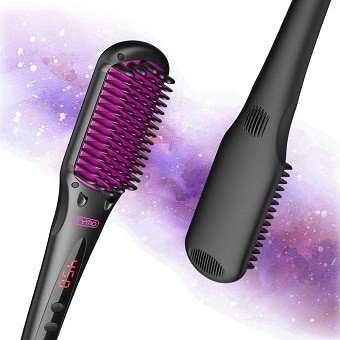 TYMO Hair Straightener Brush has outdone themselves. Get through the morning rush quickly and efficiently using this hot airbrush incorporated with MCH & MEMORY MODE technology.
This technology can remember your previous heat setting saving you a lot of time. With a wide variety of 16 setting modes, this hot airbrush model is compatible with all hair types, genders, and is perfect for all ages.
This innovation features a metal-ceramic heater that evenly distributes heat on the hair surface. Moreover, it has a quick temperature technology that fastens the heat recovery time.
With a nano comb brush, easily turn your thick kinky hair to a beautiful straight and silky hair with less damage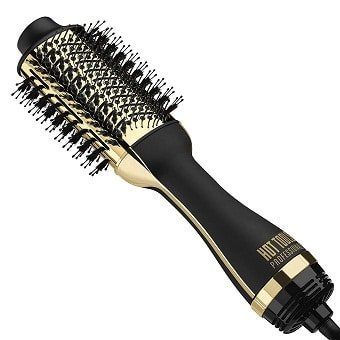 The Professional Charcoal Infused One Step Blowout hot air brush features Boar Tech 2 Bristles with Silk Glide and Natural Max Activated Charcoal. Which evenly distributes heat on your hair surface, reducing over-styling damage and giving your hair a smooth shiny look
Besides that, it has an adjustable temperature and heat control making this hot air brush model for all hair types. With an ALCI safety plug, you are ensured of maximum safety against heat-related damages.
Related: Best Smelling Hairsprays
This is a hot airbrush, that will give you an out-of-this-world experience. It is a 4 in 1 hot airbrush that can work like a comb to detangle hair strands.
Bringing curling effects through the continuous generation of a double cyclone airflow and dry hair due to the incorporation of the ionic technology and straighten hair while at the same time preventing heat damage.
With its bristles equipped with massage balls, create a light and shiny hair look and enjoy a head massage while combing your hair, a factor that enhances head blood circulation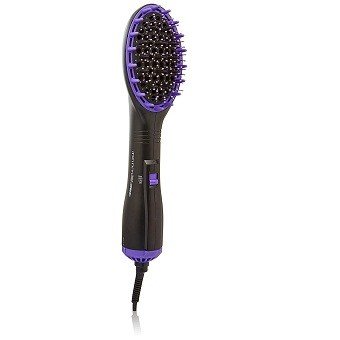 If you want to achieve a frizz-free full blow out hair, look no further than the INFINITIPRO BY CONAIR Hot Air Paddle Brush Styler hot airbrush.
It features three bristles, i.e. a detangle bristle to detangle the hair strands, a silicone bristle for an added shine and nylon for styling purposes. With multiple heats, settings adjust the hot airbrush to a desirable temperature to accommodate your hair texture.
How To Choose A Good Hot Air Brush?
A hot air brush is the safest option you will be having at your disposal to straighten your hair. They have been designed with heated plates and bristles that blow hot air into your hair surface to relax your hair strands.
This will leave your hair with a soft feel and an enhanced brightness, eventually increasing your hair volume. This one answers why many people think that hot airbrush is harmful to their hairline. It's unlikely your hair will be damaged.
Tired of the bad hair day, the hot air brushes will always be a major plug. There is no need to go to a professional hair maker as these hot airbrushes come with manuals that will take you through the step-by-step guide on how to achieve a desirable look.
Whether you are on the road, or traveling for work, or vacationing, ensure you rock your best hair design by making the hot air brush your travel buddy. This will always be possible as this product features a compact design making it very ideal for travel.
Moreover, they are light meaning they will not add so much weight to your luggage. However, it's important to make sure that your hot airbrush is dual voltage. This means that it can support both 110-120V and 220-240V.
With an adapter, you will be able to use it anywhere in the world. Moreover, with genuinely acquired goods you are assured of constant customer service, repair in the case of damage and, in some cases a guaranteed refund in case the product does not operate efficiently.
Why Need To Use A Hot Airbrush?
If you want to achieve a bouncy hair look, the hot air brush is your answer. Not only does it improve your hair volume but it can flatten it to give a more professional look. Unlike most conventional ways i.e. flat irons and hair dryers, the hot air brushes are safe to use.
The majority have been constructed with ceramic plates that protect your hair from damage, over-styling and distribute heat evenly.
Moreover, most hot airbrush products have been incorporated with ion technology that reduces hair frizz bringing out a conditioned smooth and shiny look. It can be used on both wet and dry hair and its compact size makes it portable hence making it perfect for travel.
What Material Are Heated Brushes Made Of?
Most hot airbrushes feature metal, plastic and synthetic materials. However, hair professionals recommend a hot air brush that has ceramic-coated plates.
This is because the ceramic coating greatly reduces static energy protecting your hair from damages. With a silicone, ceramic and rubber handle, you get to protect your skin from common heat damage.
Difference Between A Hairdryer And A Hot Airbrush?
The main difference lies in their shape. The hot air brush looks like a brush with an all-round bristle and has a cord for connectivity. On the other hand, a hairdryer is shaped like a gun and also features a cord for electric connectivity.
While the hair dryer heats its bristles and barrels that heat your hair to bring the drying effect, the hot air brush works differently. It uses a mechanism where it blows hot air, and the hot air eliminates water from the hair through the process of evaporation.
This process ensures no heat damage on your scalp and hair while at the same time achieving a shiny smooth look, a factor that gives the hot air brush an upper hand when it comes to drying hair.
Unlike the hairdryer where one has to dry off the water before using it partly, the hot air brush is compatible with wet and partly dried hair. For less heat, you can achieve beautiful full volume hair and completely get rid of the curls with the best hot hair brushes.
This is not the same with the hairdryer, it only has the capability of giving our hair the perfect straightening. For body lift and bounce, you will have to divert to the hot airbrushes.
How To Use Hot Airbrushes?
For best results, use your hot airbrush on wet hair that is past the point of dripping. The first step is very important. It involves combing out your hair using a hair detangling brush to remove any form of tangles.
This is mostly applicable to individuals with long and very thick hair. By detangling, you get to reduce hair breakage. Second, divide your hair into small manageable sections and secure them with hand clips.
I'm sure most of you will be wondering why I recommended the hand clip as opposed to the easily available elastic hairband. This is because the elastic rubber bands also play a role in hair breakage and its long-term effect is hair loss.
Drying should start from the roots of your hair going upwards. Since you are drying one manageable section at a time, this will make sure water completely dries off your hair and make you move fast to other sections, saving a lot of time.
It is important to observe gentleness while brushing your hair with hot airbrushes. This is what brings the smooth shiny effect. For a perfect volume, hold the brushed sections outwards as you brush them.
This should continue to the top section to attain a desirable look. For a straightened look, maintain brushing the hair down until you achieve desired results.
What Is Ionization And Why Is It Useful?
Ionization is the process by which negative ions break down water molecules bringing about a drying effect. The ionization technology has been incorporated in most hot airbrush products.
Through this neutral charge is maintained on the hair surface while at the same time hair dries up fast leaving it frizz-free, smooth and shiny.
What Barrel Size Is Better?
For thick long hair a 2″ + bristle size will perform wonders. For short hair lovers and the curly look, 1 or 1.5″ bristle brush will serve you well.
For this reason, most hot airbrush manufacturers incorporate interchangeable heads to cater to different bristle sizes, a factor that creates convenience for the user.
Is A Rotating Hot Air Brush Better?
A rotating hot air brush is best for achieving curls. This is because there is plenty of curl movement bringing out a not-so-set look. Additionally, it is perfect for almost dried up hair; with three heat settings, it brushes your hair giving an uplift bouncy look.
A point to consider is that it's not easy to use. This is because the brush is more in control than your hands. With continuous use, you will get better at managing it for better results.
---
Frequently Asked Questions
How do I clean my hot airbrush?
It is always advisable to clean your hair brush or hot air brush regularly after use. Alternatively, you can always use a dry piece of cloth to clean it. Because it is an electrifying piece, it strongly advises you not to clean it with water.
What should I do if the power cord of my appliance is damaged?
Do not use your hot airbrush. Look for an approved repair center and have the hot air brush repaired.
What type of bristles is ideal for long hair?
It is advisable to use a 2″ + that will cater to both long and thick hair.
The bristles of the brush are beginning to assume a flat shape, what do I do?
The hot air brush comes with a protective case. This case is supposed to protect your hot air brush against this kind of damage. I advise that you start storing them in their protective case after use.
My hot air brush has stopped working?
Switch it off and allow it to cool down for 40 minutes. If the problem persists, contact the relevant customer service.
Can I use a hot air brush on short hair?
A short hair brush can be used on short hair. What one needs to consider is the bristle length of the hot airbrush. 1 or 1.5″ bristle brush will be able to give the sleek look you desire.
Can I use my hot air brush outside the U.S?
Only dual voltage hot air brushes can work in any region in the world. This is because it is compatible with both the 110-120V and 220-240V. All that is needed is a plug adapter and you are good to go.
Can I use a hot air brush on wet hair?
Yes. The hot airbrush can be used on wet hair. However, it is advisable to use it on wet hair that's past the dripping point.
---
At The End Of The Day
To sum this up, we are all at liberty to enjoy different hair designs thanks to the best hot air brushes innovation.
There are many hot air brushes for you in the market but believe a majority are a waste of time and money.
To save your time from research products, we listed the top 10 hot air brushes review above for your help.
With counterfeit and generic products all over, it is important to do thorough research and ascertain legit vendors and market platforms.
Always make sure that you acquire a genuinely manufactured product to reduce the risks related to buying counterfeit goods.
About Author (Edna K. Martin)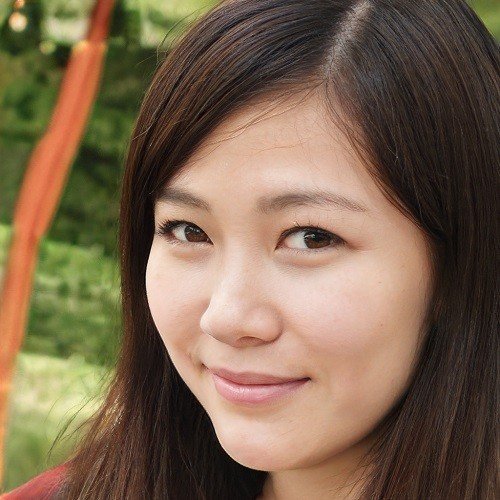 Edna K. Martin is an expert in skincare and hair care. With years of experience in the beauty industry, she has developed a deep understanding of the science behind healthy skin and hair; has a wealth of knowledge about the latest products and techniques. She is a certified skin care coach and has helped many people achieve a clearer and healthier complexion. As a hairstylist, View Profile ››