As an Amazon Associate I earn from qualifying purchases. Learn More
Your flat iron is mainly used for straightening your hair. Did you know that you can use your hair straightener to style your hair into some wondrous curls? Yes, with your flat iron, you can make all kinds of gorgeous looks that are way beyond straight hair.
If you have never tried hairstyles with your flat iron, you may think that it is an impossible task. This is because the flat irons look very limiting. The only secret to style your hair into thousands of styles using your hair straightener is by having the right flat iron. Look for a flat iron that will work for both stylings and straightening your hair.
Hairstyles With Your Flat Iron: How Should Do?
If you are tired of your usual straight hairdo and you want to add a little touch to it, here are some gorgeous different hairstyles that you can do with your flat iron.
Related: How To Clean A Flat Iron
Beach Waves
For you to create some beach waves with your flat iron, part your hair into three sections. If you have voluminous and thicker hair, you can divide it into four or five sections. Start curling each section at a time. Put your flat iron at the root of your hair and bend your hand outwards at 180 degrees as far as possible.
Release the hair and repeat the process one more time. Do this to all the sections of hair you parted each at a time until the whole head is done. Once you have finished, rub your head gently with your fingers separating the curls for messy, tousled texture.
The final result is a beach wave looking hair. Waves done with a flat iron remain intact for long, unlike the ones done with a straightener.
Related: Flat Iron Sizes Consideration
Lazy Waves
To create the lazy waves style with your flat iron, you will start by spraying your hair with a heat-protective spray. Use your flat iron and start curling the hair that is the closest to the nape of your neck. Twist your hands away from the hair to flow over but not under the iron.
As you push your flat iron towards the ends, ensure that your hair wraps around the flat iron barrel. That is what creates the curls. Think as if your hair is a ribbon you want to curl with scissors. The smaller the sections, the curlier your hair will be.
Once you are done, work your way up towards your hairline, and finish off with the hair at the hairline. Run your fingers through the curls to break them a little bit. Spray your hair, and you are good to go.
Boho Waves
Creating boho waves with your flat iron is easy, especially for people with short hair. Start by separating your hair into different sections starting from the bottom. Take a small part at a time and put it through your flat iron. Start straightening away from your face as you go to the ends.
You can turn your flat iron halfway or fully to get the curls and repeat the process until all the sections are done. Once you have achieved the curls, wait till they cool down for you to style them. Allowing the curls to cool down helps them to stay set and stay longer that way.
Once they have cooled down, run your fingers through the curls to break them a little. For you to add volume to your short hair, separate the curls using your hands and spray them in place. The curls all day, and they are easy to create.
Large Curls
If you want to style some large curls using your flat iron, here are the steps. Apply a heat protectant to your hair roots to the ends, divide your hair in half and use a clip to hold up one half. You can start on either your left or right side. Hold your flat iron vertically using one hand with your thumb facing outwards.
Away from your face, twist your hand together with the flat iron in a semi-circle. Roll your hair through the iron as you bring it to the ends. Repeat the process till all your head is complete. To set your hair, use a hair spray to get luxurious curls.
Related: How to Get Beach Waves with a Flat Iron
Crimped Waves
To make this unique hairstyle is effortless. Plait some random sections of your hair from top to bottom. Spray your hair with some heat protectant and allow it to dry. Using your flat iron, clamp the plait tightly and try to straighten it going up and down several times.
Do this for all the braids you made and leave them to cool down. Once they have cooled down, undo all the braids. Run your fingers through your hair gently to make ramped waves.
Glamour Curls
Using your flat iron, get a small section of your hair and twist your flat iron 360 degrees, and pull it outwards. Pin each curl in place so that it can set. Do the same for all the sections of your hair. Once you have finished, brush the hair with a paddle brush to set the glamour curls.
Polished Ponytail
Partition your hair into sections and straighten each section from the roots of your tresses backward. Once you have finished, repeat the process but this time do it horizontally. To get all smooth hair, do not take hair sections that are wider than the plate of your flat iron.
Hold your hair with a band and polish the ends by turning them at 180 degrees around your flat iron. Do it in different directions to get the most polished ponytail.
Chalk It-up
If you want your chalk to last longer on your hair, the only secret is using a flat iron. Once you have applied chalk to your hair, go over your strands using your flat iron. It smoothens your curls and makes the chalk color popup looking like a real dye color.
Conclusion
That is a list of some of the hairstyles you can do with your flat iron. There are tons of other different tricks you can achieve with your flat iron. Other hairstyles include; bombshell curls, medieval, bouncy waves, and many more.
Don't look at your flat iron as a limiting tool to style your hair. From today you can try out all these different styles with your favorite flat iron.
About Author (Edna K. Martin)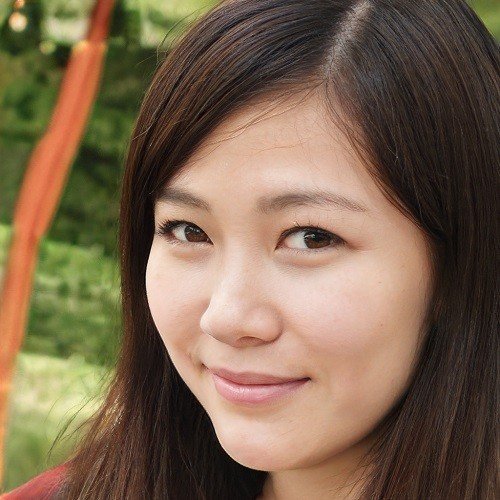 Edna K. Martin is an expert in skincare and hair care. With years of experience in the beauty industry, she has developed a deep understanding of the science behind healthy skin and hair; has a wealth of knowledge about the latest products and techniques. She is a certified skin care coach and has helped many people achieve a clearer and healthier complexion. As a hairstylist, View Profile ››