As an Amazon Associate I earn from qualifying purchases. Learn More
Festival season is fast approaching and that means an array of wild haircuts will be gracing our streets. It's a strong look that will make you memorable amongst your friends and give you the perfect Facebook profile picture! That's the point, How to curl your hair with a Flat Iron?
There is no better time than, to have wild, curly locks! Curly hair is a fashionable style worn by a swarm of celebrities, from Beyonce to Sarah Jessica Parker. Continue reading to learn the 6 simple steps to give yourself a fantastic set of curly locks using a flat iron.
How To Curl Your Hair With A Flat Iron?
1. Preparing your hair
Curling your hair with a flat iron can be straightforward as long as you ensure the following things are done before you start the process. It is essential you start with completely dry hair. Hair that is even remotely damp will not straighten as well. Even if you're lucky enough to have straighteners that can straighten wet hair, when it comes to curling it won't have the same success. A useful tip to aid with the curling process is; that if you are blow-drying your hair first, use a mouse, this will give your hair a serious amount of volume and it will keep your hair looking full of life when you curl it too.
Related: How To Straighten Hair With A Flat Iron
2. Apply heat protectant
Too many girls fail to realize the importance of protecting their hair from the searing temperatures of straighteners. If you care about the future health of your hair, then spray on the heat protectant and comb it through. Unless you want to rock the no-hair look when you're older, use a heat protector!
3. Using the right flat iron
If you are to curl your hair with a flat iron it's important it meets some criteria for your best chances of success. You want to find an iron that is thin and flat. You don't want the straightener to be much wider than a couple of inches. A plate that is too wide won't create curls as it is simply too big to wrap your hair around effectively. If you're straightening plate is wide, and your sister is flat and thin, sneak into her room when she's out and use hers (just don't get caught).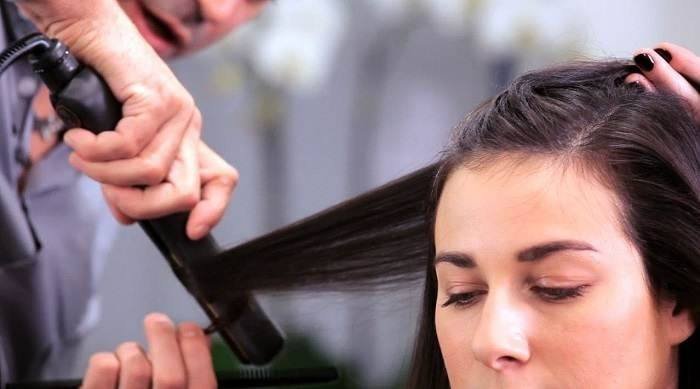 Then heat the straighteners to the temperature you usually use for your hair. If your hair is relatively thin then you want to stick to the lower end of the heat option. If your hair is thick or frizzy then you are going to need the straighteners at a higher setting.
Related: How to Choose the Best Flat Iron for Your Hair Type
4. Part your hair into easy-to-manage sections
This is especially important for thick hair. You won't be able to curl it effectively in one go. So separate your hair into several sections. Tie up the top half of your hair into a loose bun on your head. Then starting at the bottom of your scalp leave down the first layer you can manage and pin up the rest. You will curl a section, then unpin another section, let it down, curl that and so on until your hair is curled all over.
5. Curling technique
For this method, you want to start halfway down your hair. Take the flat iron/hair straightener and clamp it around the hair. You then want to turn it back on itself in a half-turn. You will have in effect created a horseshoe shape. Keeping the iron at a half-flick angle, slowly move it down your hair to the end.
It is important to remember, that the faster you move the iron down the less substantial your curls will look. So if you like big, loose flicks then you need to slow the iron right down to get the look you want. Now if you want curls that look more like ringlets, you simply have to adapt the above technique slightly. Instead of turning the iron into a half turn, you now want to do a full turn with the straightening iron.
This will look like you are basically turning the hair over on itself into a loop. The more loops you can achieve the dense the ringlets will be. Try the half and try the full turn and see which one you prefer the look of, and which one your hair responds best to. Some days may be half-turn hairstyle days, and other days you may want to go all out with the full ringlets look.
Related: Ceramic Vs Titanium Flat Irons
6. Post curling
Successful flat iron curls don't just end when you put the straighteners down. If you want to give your new look an added finish then you can use your own hands to finesse the finished product.
For loose-looking curls, just gently run your hands through your hair, this will give them a relaxed, natural look. For a firm look and extra hold, apply an anti-humidity spray and a light coat of hairspray to keep the curls in lockdown for the rest of the day.
Pro Tips For Getting The Best Curls
It can be extremely frustrating if you've gone to all the effort of curling your hair only for your new curls not to stay in place. Fear not, there is a solution. Apply hairspray to the hair you are about to curl, just before you straighten it. Then when you have curled the hair with the flat iron your curl will be much more likely to stay in place. Just be sure not to apply too much hairspray, otherwise, your hair can have a very stiff and crunchy look to it. This is a neat little trick that can ensure your new head of curls behaves itself and lasts as long as possible.
How To Curl Your Hair With A Flat Iron FAQ
Conclusion
Curling hair with a straightener can be an effective method to get a luscious head of curls. It's a striking look that is rocked by celebrities all over the world. Achieving flat iron curls can be simple and extremely effective if you have the know-how, now you do! So go home, get in front of the mirror and give yourself the same fantastic look. Follow the 6 simple steps we have run through, and use the additional tips to give your hairstyle that extra sparkle and ensure your new hairstyle is the talk of the party!
About Author (Edna K. Martin)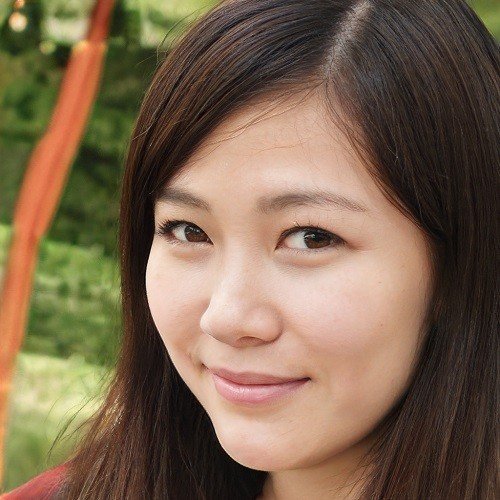 Edna K. Martin is an expert in skincare and hair care. With years of experience in the beauty industry, she has developed a deep understanding of the science behind healthy skin and hair; has a wealth of knowledge about the latest products and techniques. She is a certified skin care coach and has helped many people achieve a clearer and healthier complexion. As a hairstylist, View Profile ››