As an Amazon Associate I earn from qualifying purchases. Learn More
If you've been searching for a solution to your frizzy hair woes, you've come to the right place. The Paul Mitchell Neuro Smooth is a revolutionary hair tool designed to transform your hair into a sleek and manageable masterpiece. We'll explore what makes this product a must-have for anyone seeking gorgeous, frizz-free hair.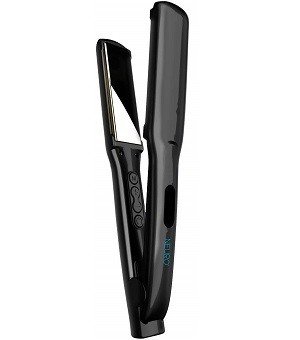 The Paul Mitchell Neuro Smooth Review will cover every aspect of this incredible hair tool. From its design and technology to its application and results, we've got you covered. Let's dive in!
Paul Mitchell Neuro Flat Iron Is Best For You, But Why?
Suitable For All Hair Types
It doesn't matter whether you have thick, coarse soft or normal hair. This flat iron is going to give you great results with your hair. You have the option of adjusting the temperatures to give the right heat to your hair. So, you never have to worry about it leaving patches of your hair improperly done. If you want wavy or straight hair, the choice is yours. Whatever style you want, you get it with Paul Mitchell neuro straightener.
Heats Up Superfast
You never have to worry about leaving late for your schedules of the day because Paul Mitchell's flat iron heats up pretty fast to save the day. It takes only 30 seconds and it is ready for use. Isn't that awesome? Imagine having woken up late and you are trying to hurry through your morning chores before leaving for work. Then you remember that your hair needs styling and a fast one at that.
You should never worry when you have this hair styling tool with you. It will be ready for you in no time and you can always make it to your workplace in time.
Adjustable Temperatures
The LCD display allows you to make the correct temperature adjustments that go with your hair texture. If you have thick and coarse hair, you can style it at the maximum provided temperatures of 450⁰F.
For lighter hair, you will lower the temperature to a level that would be favorable. This will make sure that your hair doesn't end up burnt due to too much heat or is left poorly done because of the application of heat that is less than required.
Isotherm Titanium Plate Technology
This flat iron is made of titanium plates known for their strength and durability. The surface is scratch-resistant in nature, meaning it will serve you for a long time. They are very durable even under high heat, thanks to these titanium-made plates.
The available micro-chip also allows even distribution of heat throughout the iron surface, so that your hair is styled evenly throughout the scalp. The fast recovery of heat also makes the results faster giving you smooth and silky hair with only a few passes.
Leaves Hair Silky And Smooth
The ionic and infrared technology employed while making this Paul Mitchell flat iron neuro helps in sealing the hair follicles so that your hair does not lose its moisture and natural oils.
So, as you pass heat through your hair, it is protected from becoming dry and frizzy due to loss of moisture and oils. When your hair is dry, it is possible for it to break when exposed to heat as you style it. But with this technology, your hair is left hydrated, shiny and smooth.
Likeable Features
Black in color
Adjustable temperatures of up to 450⁰F make it suitable for all hair types
LCD display
Auto-shut off feature
1.25″ Isotherm Titanium plates
SmartSense Microchip for even distribution of heat
Ionic heat technology
Flexible swivel cord 9F in length
Dual voltage makes it possible to be used worldwide
ON/OFF buttons
Hanging loop
Benefits
Heats up faster and the heat recovery is also fast.
Suitable for all hair types.
Has an auto-shut-off feature when the flat iron stays on for a long while not being used.
Small in size and lightweight making it easy to carry around.
Has a flexible swivel cord.
Drawbacks
Needs handling with utmost care because it can heat up to extreme temperatures and may end up damaging your hair.
Cannot be used on already damaged, permed, bleached or damp hair. This kind of hair can be damaged further even at low temperatures.
No color variety.
Question And Answer (Q&A)
1. What Is Paul Mitchell Neuro Smooth?
Paul Mitchell Neuro Smooth is a hair straightening iron that uses advanced technology to provide sleek and straight hair with less damage. It is designed to provide smooth, shiny, and frizz-free hair that lasts longer.
2. How Does Paul Mitchell Neuro Smooth Work?
Paul Mitchell Neuro Smooth works by using far-infrared heat and negative ions to straighten hair. The far-infrared heat penetrates the hair shaft to straighten hair from the inside out, while negative ions help to neutralize static and frizz, leaving hair sleek and smooth.
3. Is Paul Mitchell Neuro Smooth Suitable For All Hair Types?
Yes, Paul Mitchell Neuro Smooth is suitable for all hair types. It has adjustable temperature settings that can be customized for different hair types, from fine to coarse. It can be used on color-treated hair as well.
4. Can Paul Mitchell Neuro Smooth Cause Damage To Hair?
Any heat styling tool can cause damage to hair if used excessively or incorrectly. However, Paul Mitchell Neuro Smooth uses advanced technology to minimize damage to hair. The far-infrared heat and negative ions help to reduce damage and provide smooth and shiny hair.
5. How Do I Use Paul Mitchell Neuro Smooth?
To use Paul Mitchell Neuro Smooth, plug it in and turn it on. Adjust the temperature to your hair type and wait for it to heat up. Section your hair and start straightening from the roots to the ends, using a slow and steady motion. Repeat on all sections until you achieve the desired result. Always use a heat protectant spray before using any heat styling tool to protect your hair.
Conclusion
The Paul Mitchell Neuro Smooth is a game-changing hair straightener that delivers salon-quality results in the comfort of your own home. Its cutting-edge technology, ergonomic design, and frizz-free guarantee make it a must-have for anyone seeking beautiful, smooth hair.
Say goodbye to bad hair days and hello to luscious locks with the Paul Mitchell Neuro Smooth. Invest in this remarkable hair tool, and you'll never look back.