As an Amazon Associate I earn from qualifying purchases. Learn More
Friday night is fast approaching, but the most difficult question is still to be answered – how shall I do my hair? Should I have it down and straight, or should I have it half up with curls? It's a difficult decision and if you only have one pair of hair straighteners or one curling iron, you might not have the choice at all.
Well, not anymore! With this TYME Iron Pro you can ponder all week and make your mind up on Friday evening, because this iron doubles up, allowing you to straighten or curl your hair!
You can relax knowing that either choice is a straightforward option. Plus you save money by not having to buy two tools for your hair! Read on to learn why this TYME flat Iron stands out from the rest and how it can help you decide on this weekend's hairstyle stress-free!
Why did You Choose TYME Iron Pro?
Creates Any Style!
Perhaps the standout feature of this hair iron is that it doesn't limit your look in any way. Quite simply, anything is possible with this one tool. It is straightforward to switch between the straightening and curling functions by making the most of the sleek, curved edge.
Plus, with the added bonus of a rotating cord, it's easy to maneuver the iron through your hair whether you're straightening it, or whether you're using it to create rich, curls full of volume.
Related: Remington Wet 2 Straight Flat Iron Reviews
Gets High Temperatures In Lightning Speeds
One of the essential things you need from your TYME flat iron is that it's going to get hot enough to shape even the thickest hair. That's why this TYME curling iron reaches a temperature of 400° Fahrenheit / 204° Celsius, ensuring no matter how difficult your hair is that you can get the look you want.
But not only does it reach high temperatures, but it gets there extremely quickly. In less than one minute it can reach 400° Fahrenheit.
Salon Quality
It's well-built and the slick, gold-plated finish, gives this TYME curling iron a top-quality feel. When you're holding it in your hand, you get a distinct feeling that no expense was spared when they made it.
It feels reliable, the iron feels heavy enough that you know it's not made from cheap plastic, but still light enough that it's easy to use. It gives you the feeling you've got your money's worth and you wouldn't be the least surprised to see it in a salon.
User Friendly
These irons have been designed specifically to make them straightforward for customers to use. They have made the heat setting straightforward and have limited the number of buttons to reduce any confusion.
The irons are fitted with a swivel cord, which makes sure you don't have to move your arms into awkward positions. They will rotate hassle-free, making sure they can always be put in the position you need them. They are the easiest-to-use irons I have ever owned!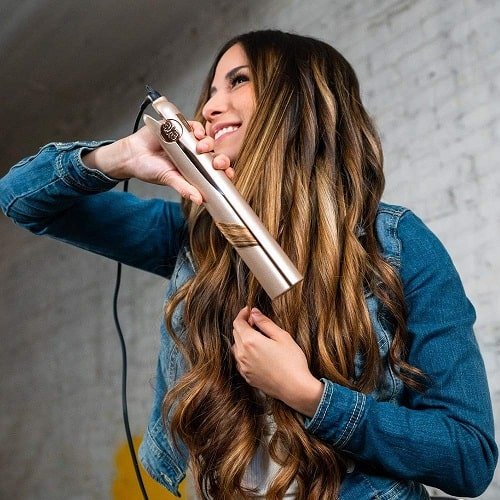 Key Features Of The TYME Flat Iron
400° Fahrenheit / 204° Celsius temperature setting.
Heats up rapidly- can reach 400° Fahrenheit in less than 1 minute.
Professional quality gold-plated titanium plates.
Practical rotating swivel cord making it easy to use.
Fantastic salon-quality finishes and builds.
Creates any style in just a few minutes.
Comes with a free heat sleeve.
Free one-on-one Style TYME session.
TYME Flat Iron Pros And Cons
---
Related: Izutech Flat Iron ktx450
How To Use Tyme Iron Pro 2-in-1 Hair Curler and Straightener?
If you're looking for a way to add volume and curl to your hair, you should consider using a hair curler and straightener. Tyme Iron Pro 2-in-1 Hair Curler and Straightener are one of the most popular options on the market, and for a good reason. It's easy to use, has multiple heat settings, and is durable. Plus, it comes with a two-year warranty, so you can rest assured that you're getting your money's worth.
The Tyme Iron Pro 2-in-1 Hair Curler and Straightener is a great product in your hair styling arsenal. It heats up quickly, has multiple heat settings, and leaves your hair looking smooth and shiny. Here is a step-by-step guide on how to use it:
Plug in the Tyme Iron Pro 2-in-1 Hair Curler and Straightener and wait for it to heat up to the desired temperature.
Section off your hair into manageable subsections.
Taking one subsection at a time, wrap it around the Tyme Iron Pro 2-in-1 Hair Curler and Straightener barrel.
Hold the curl for a few seconds, then release.
Repeat with the remaining subsections until your entire head is curled or straightened.
TYME Iron Pro FAQs
Why Trust Our Review?
In today's world with the huge amount of information on the internet, how do you know what to trust and what to ignore? Too often you come across obvious sales pitches and far too many choices when it comes to buying a product. That is precisely why I wanted to write this article.
I was a victim of not knowing what to believe and what to buy. So I decided to help those in the same situation as me, using the 15 years of experience I have, buying over 10 hair straighteners and curling irons, before deciding to invest in one that could do the job of both.
Since I was 14, I have owned good hair irons, average irons, and flat-out awful straightening and curling irons. Few have prompted me to reach out and tell people that this product was worth every penny. This TYME hair iron is one of those; it can curl hair!
If you are looking for honest and reliable feedback, from a young woman who has gone through all the hair dilemmas and trials most young women have, then trust this review and you can choose your next hair iron confidently, in the knowledge that it comes honestly recommended and thoroughly reviewed.
---
Conclusion
This TYME Iron Pro has been the answer to my problems for several years now. If you need the choice between a curling iron and a flat iron and don't want to buy both, then this is a worthy investment. It has a salon-quality finish; the gold-plated titanium plates look fantastic. I feel stylish when I use this iron and it always gives me the look I'm after. If you want an all-in-one hair iron that is perfect for birthday parties, family meals, and your friend's wedding this summer, then this is the product you need!
About Author (Edna K. Martin)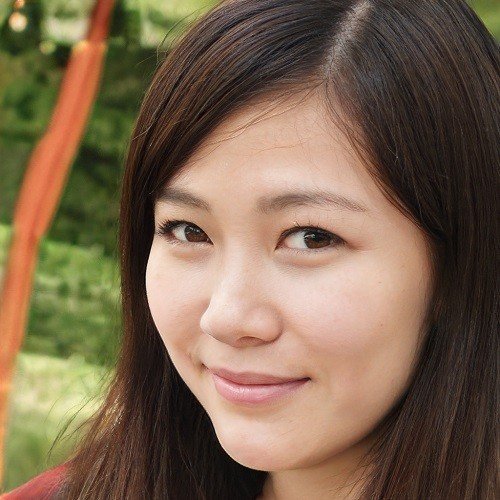 Edna K. Martin is an expert in skincare and hair care. With years of experience in the beauty industry, she has developed a deep understanding of the science behind healthy skin and hair; has a wealth of knowledge about the latest products and techniques. She is a certified skin care coach and has helped many people achieve a clearer and healthier complexion. As a hairstylist, View Profile ››