As an Amazon Associate I earn from qualifying purchases. Learn More
Welcome to our detailed ghd Gold Styler 1 inch Flat Iron Review. If you're in search of a top-notch flat iron for your hair, you've come to the right place. We will thoroughly examine the ghd Gold Styler, exploring its design, functionality, and real-world performance. Whether you're a professional stylist or someone who loves styling their hair at home, this review will help you make an informed decision.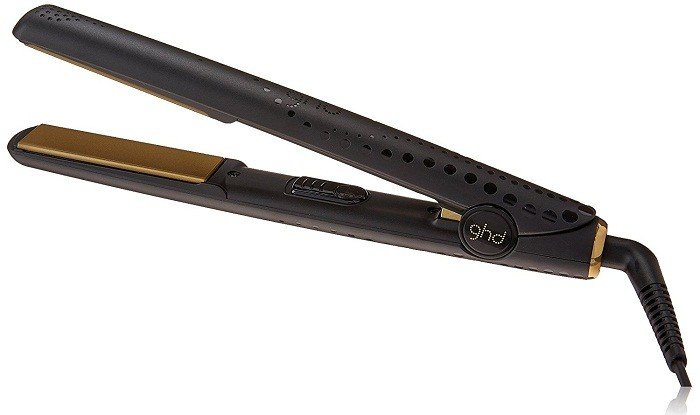 The GHD Gold Professional 1 Inch Styler is prepared ceramic heaters with aluminum plates for advanced heat, and static-free hair. It can be used to straighten the hair to the desired style. The iron can also be used to curl and make waves on the hair. This multipurpose tool is the arsenal you need to make hair care much easier to do.
Features of The ghd Gold Styler 1-inch Flat Iron
Easy And Fast Straightening
With just a few passes, this tool will get your hair bone straight in no time. If you have frizzy type hair, this straighter will take care of it with just one pass. The heat setting is just right for all common hair types, enabling you to perfect your hairstyle within half an hour.
The ceramic surface emits enough heat to get the hair straight without frying it. This is the perfect flat iron if you have fine hair as it has ions that are able to seal the hair shaft preventing damage from excess heat.
Perfect Curler
This is the perfect device to use to achieve great waves and curls. What's more, you don't have to straighten your hair first then curl it. With the GHD, this can be done at the same time.
This styler iron allows you to curl and straighten with this same device, at the same time giving you without damaging and statically charging hair. The one-inch versatile barrel has a good-looking round body that can easily create waves, curls, and straight styles that last.
It has smoothly contoured plates with a sheeny finish that glide through hair without pulling or snagging fast leaving it silky and shiny.
Advanced Heat Technology
The GHD Gold Professional Styler is designed to operate at the optimum 375°F styling temperature for healthy-looking hair with an enhanced, lustrous shine. It's ideal for many hair types and hair lengths.
This ceramic tool is within heat range and works on all hair types including coarse hair. If it doesn't get the hair straight in one pass, a few more will do. It's recommended you don't do more than five passes because a lot of heat will weaken hair and lead to damage.
​It's safe to use on a daily basis without damaging hair. It becomes easier to style hair in the morning as it requires only a couple of minutes.
Safety Feature
When the iron is not in use for 30 minutes it turns off automatically and goes into sleep mode. This feature is very important and will prevent an accident in case one forgets to switch it off after use.
Another smart thing is a protective plate guard to cover hot plates, that's why you can pack up your hair styler immediately after use and won't burn your bag.
Universal Voltage
GHD gold professional 1 iron is designed with universal voltage which means you can use it on the go, irrespective of where you travel. It has the tool for a flyer as you won't have to worry about a bad hair day whenever you are. The best professional flat iron heats up fast in 30 seconds and the self-adjusting temperature adjusts to different hair textures
Compact Design
The one-inch styler is designed to be portable. Its slim size will fit comfortably in the bag when not in use. The cable is long to ensure the user gets the best use of this tool.
It's the best flat iron to take when traveling as it will save you a lot of space in the suitcase as you won't need to pack a transformer when you go to different countries.
Likeable Features
3 in 1 – Rounded barrel for straightening, curling and easy waves.
Easy to use a flat iron, suitable for home use.
Universal voltage for worldwide worry-free traveling.
Ultra-light and heats up extremely quickly.
Sleek compact design.
Benefits
Made hair feel smooth with a few passes.
Straightened hair relatively quickly.
Multiple-use tools.
The heat settings are perfect for most hair types.
Drawbacks
Can easily burn fine hair when used without heat protectors.
Only one temperature setting that doesn't work on all hairs.
Expensive.
No temperature control.
Question And Answer (Q&A)
1. What Makes The Ghd Gold Styler 1 Inch Flat Iron Better Than Other Flat Irons?
The ghd Gold Styler 1 inch Flat Iron features dual-zone technology, which means it has two heat sensors instead of one. This allows the iron to maintain a consistent temperature across the plates, resulting in smoother, shinier, and healthier-looking hair. Additionally, the iron heats up quickly and has a rounded barrel for easy styling.
2. How Do I Clean My Ghd Gold Styler 1 Inch Flat Iron?
To clean your ghd Gold Styler 1 inch Flat Iron, make sure it is unplugged and has cooled down completely. Then, use a soft, damp cloth to gently wipe down the plates. You can also use a bit of rubbing alcohol on a cotton pad to remove any stubborn buildup.
3. How Long Does It Take For The Ghd Gold Styler 1 Inch Flat Iron To Heat Up?
The ghd Gold Styler 1 inch Flat Iron heats up in just 25 seconds, which is faster than many other flat irons on the market.
4. Does It Have A 220volt Option Or Do I Need To Buy A Transformer?
The voltage rating is 110-230 V so you won't need a transformer as long as it has universal voltage.
5. Does It Have Temperature Control? How Hot Doesn't Get?
There is no temperature control; it goes up to 365° F.
Conclusion
The ghd Gold Styler 1 inch Flat Iron is a top-tier styling tool that has earned the trust of professionals and beauty enthusiasts alike. With its impressive heating speed, versatile temperature control, and user-friendly features, it's an excellent investment for achieving salon-quality hair at home. Say goodbye to bad hair days and hello to sleek, shiny locks with the ghd Gold Styler.
If you're ready to elevate your hair styling game, the ghd Gold Styler is a fantastic choice. Invest in your hair's health and beauty today!
References:
The articles on HairStraightenerLab are carefully curated, taking inspiration and wisdom from respected experts and reputable institutions. We place our trust in credible sources, acknowledged for their profound knowledge, to guarantee the precision and trustworthiness of our content.
1. How to Curl Hair with a Straightener – https://www.ghdhair.com/hairstyles/curly/how-to-create-loose-curls-with-a-straightener