As an Amazon Associate I earn from qualifying purchases. Learn More
To get the perfect straight hair with a flat iron works better than a blow dryer. Sleek shiny straight hair is gorgeous, and it is easy to maintain, and it is quick to get it with a flat iron.
Knowing how to use a flat iron properly and hair treatments to use before and after ironing will prevent your hair from heat damage and keep your hair straight throughout.
Step By Step Guide: How to Use a Flat Iron?
Follow these steps as a guide on how to use a flat iron from start to finish properly.
Have The Right Flat Iron
It would be best if you used the right flat iron to protect your hair from heat damage. The best flat irons should have ceramic plates rather than metal plates.
Ceramic flat irons distribute heat evenly and straighten hair smoothly without causing snags or leaving patches.
Also, flat iron with a ½ or 1-inch plate is easier to work with. Having the right flat iron makes straightening your hair process effortless.
Related: The Exact Way To Use A Wet To Dry Flat Iron
Prep Your Hair
Start by washing your hair with smoothing or moisturizing shampoo and conditioners for straight hair. Your hair is best for straightening after a fresh conditioning and shampooing session.
Avoid straightening dirty hair. Well-conditioned and moisturized hair can handle flat ironing heat without getting damaged.
Flat ironing brittle and dry hair will only damage it. It leads to frazzled hair that won't lie flat. That is why you need to make sure that your hair is well conditioned and moisturized.
Once you have conditioned your hair, take a paddle brush, and comb the conditioner through.
Finish by rinsing your hair gently. When buying hair cleansing products, look for those labeled as creating sleek or straight hair.
Dry Your Hair
Using your towel, tap your hair by gently squeezing it in sections until it dries. Patting the hair dry will prevent it from getting excess frizz after washing your hair.
Alternatively, you can rough dry your hair using your blow dryer until it is 80% dry. This is where you shake your dryer back and forth until the hair is dry.
For the other 20%, you can allow your hair to air dry. You might be tempted to straight wet hair to fasten the straightening process. Do not do this because your hair is more fragile when it is wet. Wait for your hair to dry before you start ironing it.
Use a Heat Protectant Spray
Protecting your hair locks from heat damage is very vital. Before applying heat on your hair, apply a thermal protection serum or a heat protectant spray all around your hair without creating clumps.
If you want to keep your hair straight throughout the day, use silicon and vegetable oil products like coconut oil and argan oil. If your hair is thick and coarse, you can use Moroccan oil to moisturize and add shine to it.
Once you have sprayed your heat protectant, comb your hair with a wide-toothed comb to spread the spray throughout the hair.
Thermal protectant works best on damp hair, and it protects your hair up to 450 degrees.
Related: How to Flat Iron Natural Hair Like a Celebrity Hair Stylist
Blow Dry Your Hair
A flat iron gives long-lasting results on only dry hair. That is why you need to blow dry your hair to dry it before using your flat iron fully.
When you flat iron semi-wet hair, it makes it frizz up. When blow-drying your hair, ensure that your blow dryer is pointing downward and goes with hair flow while blow-drying it.
This ensures that your hair dries straight and smoothens it down to reduce the risk of frizz. When blow-drying your hair, set your dryer on the lowest heat setting to protect your hair from heat damage.
Divide Your Hair into Sections
To make your ironing easier and get the best results:
Divide your hair into two sections or more if your hair is thicker.
Don't work on random bits of hair as this will lengthen your straightening process.
Use a hair clip or a hairband to hold the upper section of your hair to keep it out of your way so that you can start with the half bottom. This ensures that you iron your hair thoroughly without skipping some areas.
Start Ironing Your Hair
Plug in your flat iron and turn it on. If you use one with different heat adjustment settings, select your desired heat level depending on your hair type. If your hair is fine and thin, use the lowest heat setting to prevent your hair from heat damage. If your hair is thick, long, and coarse, use a higher heat setting level.
Pick a small section of hair about 1-inch and place your flat iron as close as possible near your roots. Big chunky sections of hair will no straighten properly ad will take a longer time. Clamp your flat iron down so that the heating sides touch while your hair is in between the plates. Pull your flat iron down in s smooth motion.
Go slow and steady and ensure that your flat iron does not sit on one place for long as this can cause a ridge or undesirable folds to form in your hair.
Run the flat iron from the root down the length of your hair in a steady sweep. If you iron a section of hair quickly, you will have to go over the same section over and over for it to be fully straight.
Repeat this process in small sections until all your hair is done. Make each pass count, and you can run your flat iron over the same sections 2-3 times. Straightening the same section over and over many times can cause hair damage.
If you want to create volume at the roots, you can achieve that at the top layer of your hair. Straighten each section of hair upwards like you are pulling your flat iron to the ceiling. It will help your hair not to look totally flat once you have completed straightening it.
Related: Silk Press vs. Flat Iron
Finish with A Serum
To keep your hair smooth with a silky finish and a luminous shine apply hair serum. The serum helps to tame the frizz away and keeps your hair beautiful.
By following these tips on using a flat iron, you can achieve smooth silky straight hair within a few minutes. Straight hair is easy to manage and looks good on any skin tone.
You don't have to go to the salon if you want to straighten your hair. Following these tips will enable you to create straight hair in the comfort of your home.
About Author (Edna K. Martin)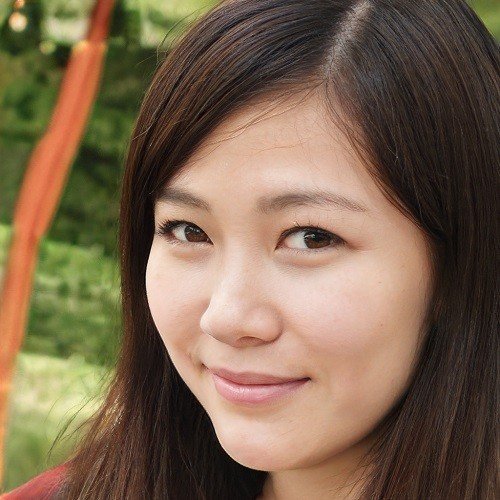 Edna K. Martin is an expert in skincare and hair care. With years of experience in the beauty industry, she has developed a deep understanding of the science behind healthy skin and hair; has a wealth of knowledge about the latest products and techniques. She is a certified skin care coach and has helped many people achieve a clearer and healthier complexion. As a hairstylist, View Profile ››